BTX takes you to boat transporters anywhere in the world. Since 1997 we have put thousands of yacht owners in touch with boat transporters. Email details of your job here on the BTX questionnaire page. Boat transporters will reply with free advice and price quotations. BTX is free, based in Britain and used by mariners everywhere.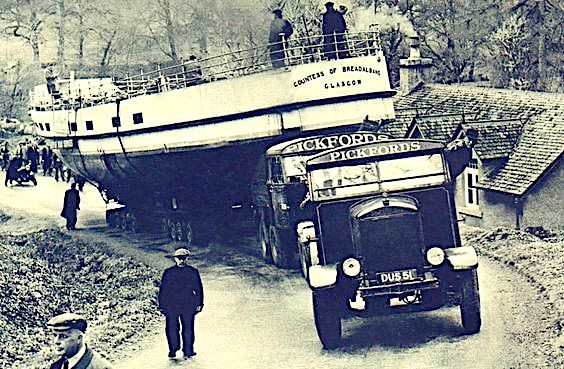 Boat Transport News 2023

WELSH WIN IN SOLENT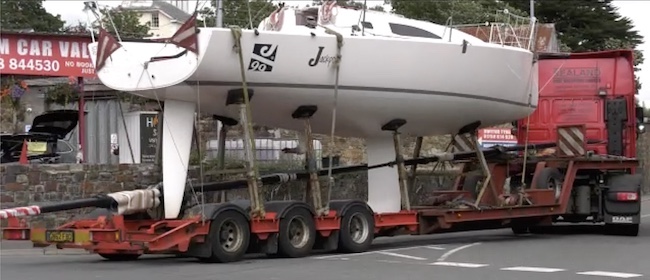 Pwllheli, Gwynedd, North Wales, July 5, 2023: Owner David Lean's J/99 shorthanded offshore Speedster JACKPOT returns to her home port as overall winner of the UK J/Cup 2023.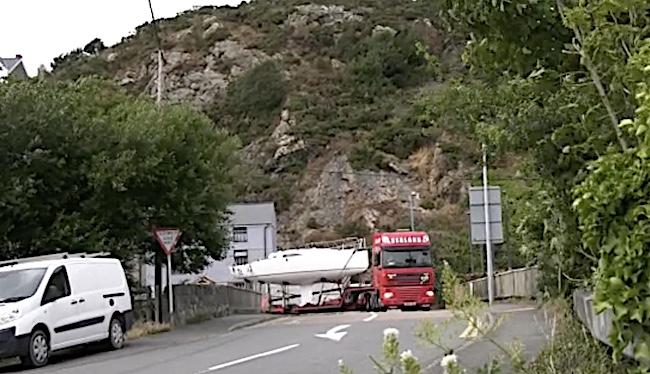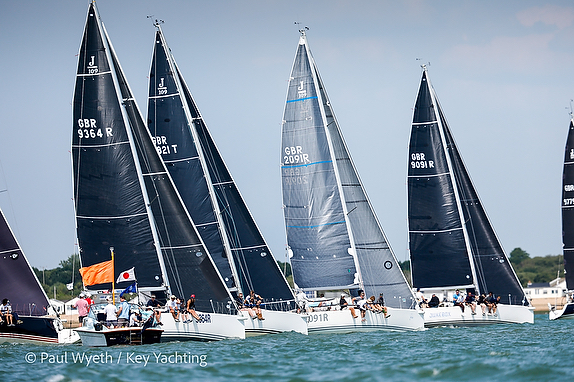 Fifty crews raced in the Solent in June during the Key Yachting J/Cup UK Regatta. David Lean won the J/99 class with a plan that involved using Sealand Boat Deliveries to transport JACKPOT early in June 533km by road from Pwllheli to Hamble Point, where OneSails GBR reinforced both her crew and her equipment for three days of windward, leeward and round-the-cans racing in the central Solent.

The J/99s raced against J/70s, J/109s, and J/111s, according to class rules, while IRC1 and IRC2 yachts were racing under IRC mixed fleet rules. John Treanor and his Irish crew, racing the new J/112e VALENTINA within days of her commissioning, took first place in the IRC 1 Division.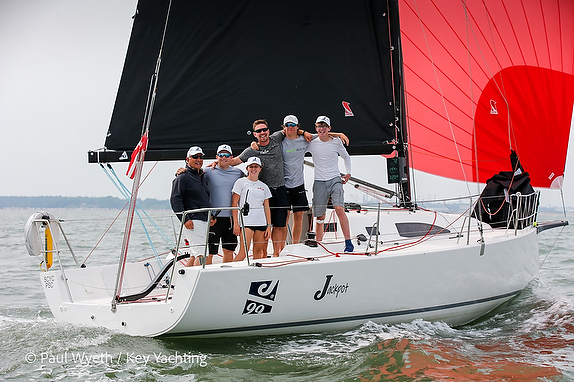 J/99 JACKPOT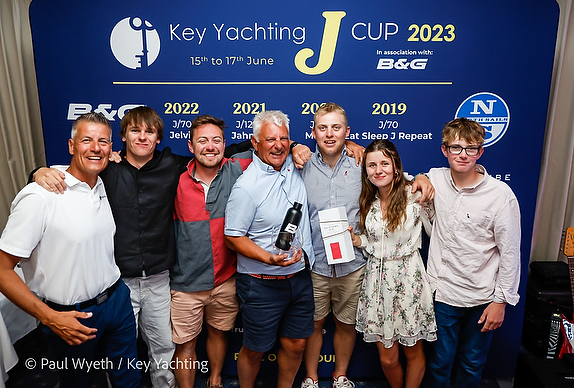 Two hundred competitors gathered at the Royal Southern Yacht Club in Hamble to see David Lean and his crew declared overall winners of the the J/Cup 2023.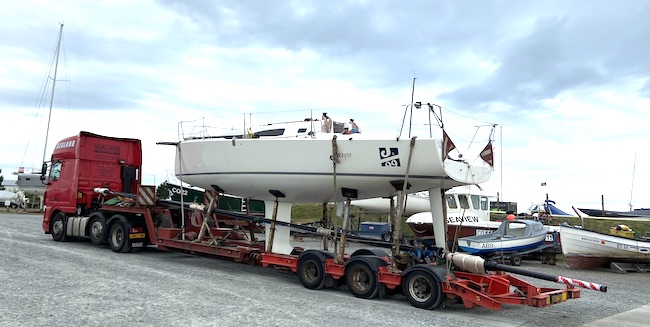 Key Yachting and sponsors B&G, North Sails, the Vital Spark Pursuit Race, MDL Marinas, XV Stripes, Henri Lloyd, Salcombe Distilling Co and Hambledon Vineyard are expected to stage the event in the Hamble again in 2024.

LAST OF THE CAYMAN SCHOONERS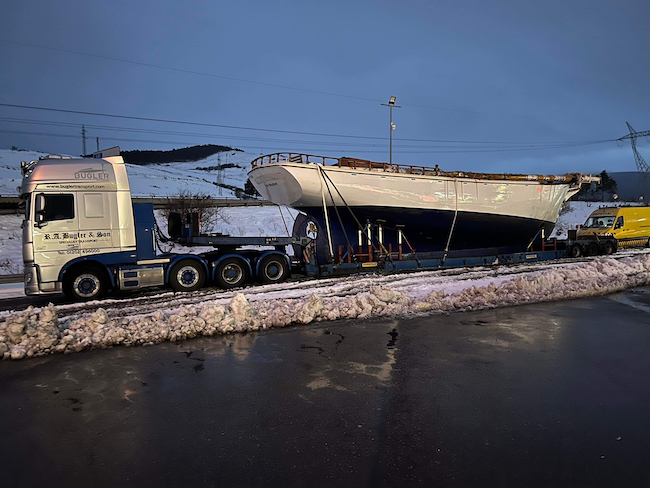 Reinosa, Cantabria, Spain, January 2023: Driver Colin Rowell heads north through the snow in the Cantabrian mountains, hauling a 51ft [15.5m] wooden gaff schooner from La Manga in southern Spain to a British shipyard in a two million dollar project to return her to the small Caribbean island of Cayman Brac, where her keel was carved and laid 76 years ago.

Forty Cayman and Jamaican shipwrights built FAIR WEATHER in mahogany and teak between 1947 and 1950 for a British journalist and wartime spy in a boatyard backed by Ian Fleming, the creator of James Bond.

Sir Anthony Jenkinson [1912 - 1989], a direct descendant of the explorer Anthony Jenkinson [1529 - 1610], Queen Elizabeth I's ambassador to the Muscovy court of Czar Ivan the Terrible, became the 13th Baronet Jenkinson of Walcot and Hawkesbury at the age of two, when his father was killed in one of the first battles of the First World War.

The other partners in the 1947 Cayman Boats project were Leicester Hemingway, younger brother of the novelist Ernest Hemingway, and the shipbuilder Arnold 'Cappy' Foster, whose men laid down the first keels on Cayman Brac until a shortage of craftsmen forced them to tow the early hulls for completion at the former Royal Navy shipyard in Port Royal, Jamaica, arranged probably through the influence of recently demobbed Cdr Ian Fleming of the Naval Intelligence Division in London.

When the shipwrights from Cayman Brac were working in the naval yard at Port Royal, Sir Anthony re-developed the 17th century buccaneering base of the Welsh-born privateer and governor-general, Henry Morgan, a slaveowner who had himself been kidnapped and enslaved as a boy. In the first of the Bond movies, Dr No, filmed in Jamaica in January 1962 and based on Ian Fleming's sixth Bond thriller, Sean Connery encounters Ursula Andress [Quarrel] at Sir Anthony's raffish Morgan's Harbour Hotel, now the Grand Port Royal Hotel, on the waterfront at Port Royal.

FAIR WEATHER, designed by Murray G. Peterson, of South Bristol, Maine, and the Danish-American designer K. Aage Nielsen, was launched in 1950 and Sir Anthony lived aboard her with his family for several years. Ian Fleming, Ernest and 'Les' Hemingway and the hell-raising film actor Errol Flynn were often seen aboard her. Sir Anthony had been at Eton College with Ian Fleming and his brother Peter Fleming, explorer and author, and at Balliol College, Oxford, with the future politicians Jo Grimond and Anthony Greenwood, but as war loomed in 1938 he turned up as a reporter during the Japanese invasion of China.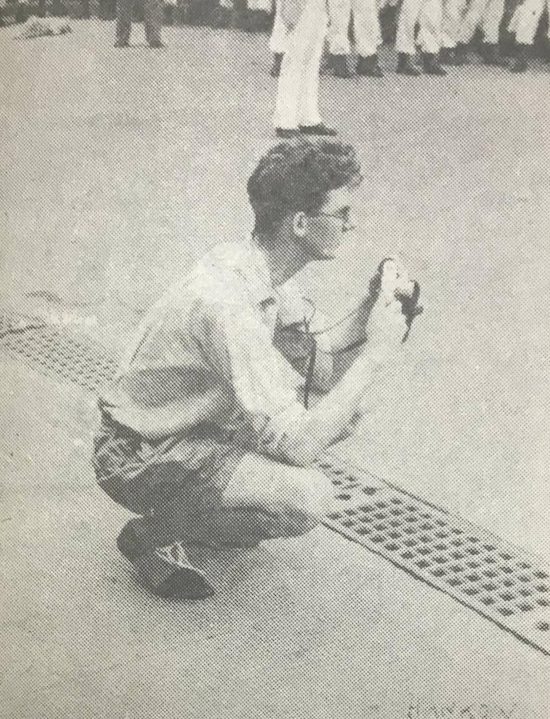 The great photo journalist Robert Capa snatched a shot of Sir Anthony, 6ft 4in, crouching with a Leica in a street in Hankou, now part of Wuhan, during a Japanese air raid. Jenkinson had lived in a cave for a month in the remote province of Ya'nan to interview the Chinese Communist leader Mao Zedong.

Early in 1939, Sir Anthony persuaded Arthur Christiansen, editor of the Daily Express, to back him on a pre-war espionage mission in the spirit of the spy novel The Riddle of the Sands. Jenkinson and Lieutenant James Maudslay sailed the 38-foot sloop LA MUCHACHA on a 5000-mile Mediterranean and Black Sea cruise to spy on activity by the Italian and German navies. On their return, Cdr Ian Fleming, chief of staff to Admiral Godfrey at the Naval Intelligence Division asked Jenkinson to mount a similar spying operation in the Caribbean Sea.

Sir Anthony bought the 45ft schooner BLUE STREAM and sailed for Key West in Florida in 1940. Leicester Hemingway crewed with Jenkinson and according to a Cayman Compass interview with Sir Anthony's son, Sir John Jenkinson, 'They investigated German preparations for submarine warfare in the Caribbean area, mostly inland islands off the coast of Central America, gathering information which was to prove vital as German submarines set about attacking British shipping in the area.'

The secret BLUE STREAM voyages inspired Ernest Hemingway's 1951 novel Islands in the Stream which was not published until 1970, nine years after Hemingway's death.

Sir Anthony founded and edited a wartime news service in New York and London known as Allied Labour News, specialising in publishing reports from allied secret agents and resistance saboteurs, often socialists and communists, operating in German-occupied Europe. A 1985 report in the Cayman Compass suggests that Sir Anthony's confidential files on his secret agents suffered the same ruthless post-war destruction by the intelligence services as the files of the Special Operations Executive that were destroyed in a mysterious fire at Baker Street in 1946. The Cayman Compass stated

After the war ended, he returned to the UK from New York to find his office ransacked and files on correspondents missing. That was enough. Sir Anthony took the hint, he had performed a very useful wartime service, the war was over, and he decided to return to his first love, the sea.
In May 1947, he came to Grand Cayman, not just to build his dream boat, but with orders from other sailing enthusiasts who were eager to head back out on the peacetime waters.
He set up Cayman Boats Ltd. on Cayman Brac with Arnold 'Cappy' Foster at Stake Bay, and soon was employing 40 Caymanians, who were building boats to the most exacting UK and American designs.
Skippered by her regular Grand Cayman sailing master, Czar Hurlston, and fitted with a refrigerated hold, FAIR WEATHER spent 1951 working as a reefer ship, servng 25 Jamaican fishermen stationed out on the lonely sandbanks of the Pedro Cays, 100 miles from Kingston. Using a fleet of 10 canoes, the men fished the Pedro Bank for three days and nights until the schooner picked them up. On February 20, 1951, after her first sortie, FAIR WEATHER landed 4.5 tonnes of fish, the largest catch in Jamaican waters in living memory.

In 1952 Paramount Pictures chartered the schooner in Jamaica for filming Road to Bali in which Bob Hope and Bing Crosby, as 'two unemployed show-biz pals accept treasure-diving work in Bali for a local princess and they find treasure, love and trouble.'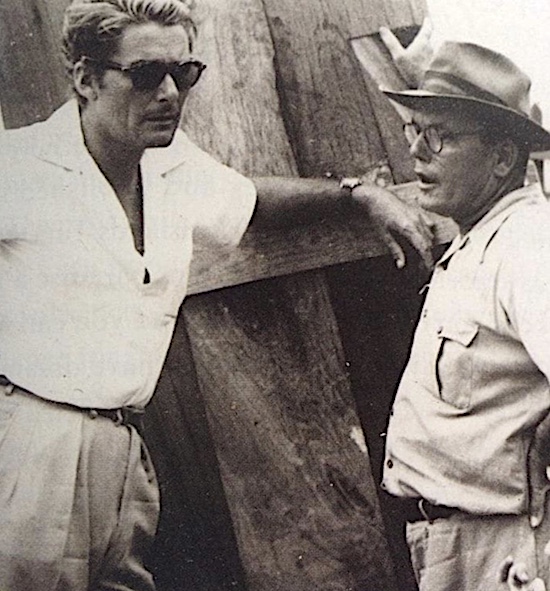 There was trouble in Jamaica with Errol Flynn, a friend of Sir Anthony since the 1930s in Hollywood, when Flynn rented 601 North Linden Drive, Beverly Hills with the film actor David Niven who had sailed dinghies with Sir Anthony when they were schoolboy members of Bembridge Sailing Club in the Isle of Wight

Ira Walton, a seafarer from Cayman Brac, faced with a bad weather forecast, had berthed FAIR WEATHER, 72ft overall, on a dock berth reserved for Flynn's notorious 118ft schooner ZACA. Ira told the Cayman Islands National Archive in 1991:
We were down below. We had to sleep by lantern because we didn't have no electricity. During the night, I heard this thing bucking alongside and I heard a voice calling and accusing me, accusing us, of being drunk, gambling and smoking ganja. I could hear it was Flynn's voice.
And I had a dagger on me. I made it out of one of those rasper files and I asked him to hold on alongside till I get on deck. But he must have heard by the tone of my voice that I meant trouble, and by the time I got on the deck, he had pushed away from the side, and I told him some real bad things.
People believe he might be a good actor but he was one of the worst little dogs on earth. Yes, he was bad. And every bar room in Ocho Rios and Port Antonio you visit, you could find his and his wife's picture stuck up there, naked.
It took Sir Anthony to make peace between Flynn and Ira Walton. Flynn eventually saluted FAIR WEATHER by circling the schooner in a light aircraft as she made her way under sail across San Antonio Bay.

In the first winter after the 1953 coronation of Queen Elizabeth II, the new queen and the Duke of Edinburgh arrived in Jamaica to start a Commonwealth tour aboard a Shaw Savill liner chartered as a royal yacht. Sir Anthony hosted the world's press aboard FAIR WEATHER to escort SS Gothic and the cruiser HMS Sheffield offshore, outward bound for the Panama Canal, Fiji, Tonga, New Zealand and Australia.

FAIR WEATHER was sold in 1958 to a wartime destroyer captain, Cdr Angus Alexander Mackenzie, three times mentioned in dispatches in the years between Dunkirk and D-Day. Mackenzie may have sailed the schooner to Hong Kong and Japan, where his Hong Kong & Eastern Shipping Company was based, because a year later, he sold her in San Francisco to Suttie Adams, a notable Californian yachtswoman and her husband Bill. Sailing with her children, but for many months without her husband, Suttie spent four years navigating the Cayman schooner to 103 ports on the 35,566 mile circumnavigation that she recorded in her book The Cruise of the Fairweather.

The project to bring FAIR WEATHER back to the Cayman islands is headed by Paul Deegan, who discovered the last of Sir Anthony's Cayman schooners afloat in Mallorca under the name BELLA LOLA and in the careful ownership of a former Spanish naval officer, Luis Perez-Solero Puig, and his wife Lola.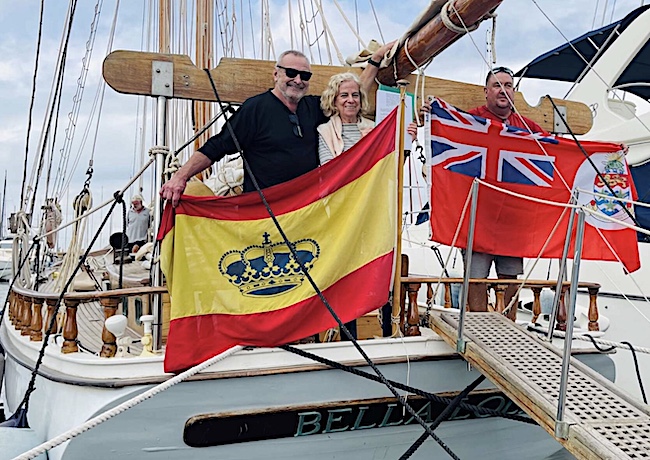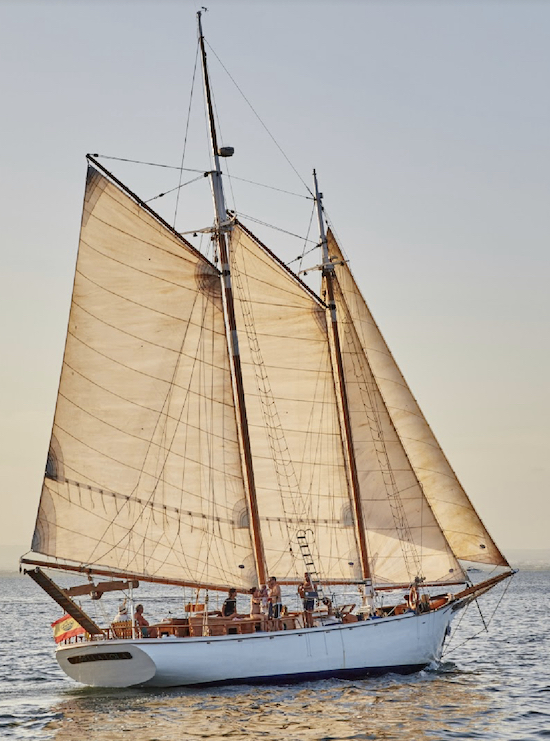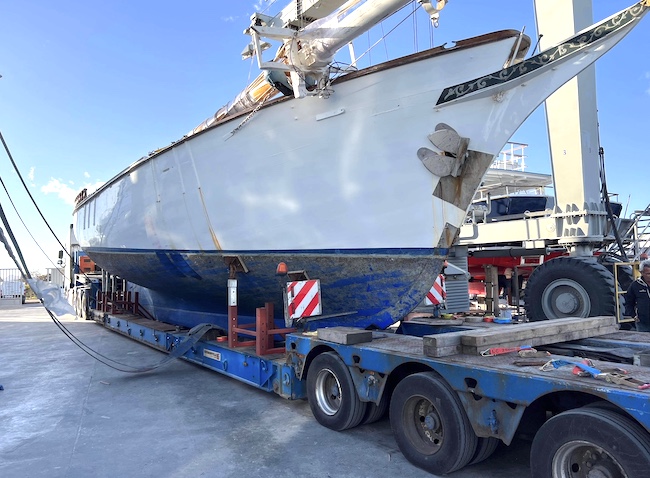 Chris Bugler, veteran yacht transporter from Poole, organised the heavy road haul of the 15.57m x 4.57m 28-tonne wooden treasure from La Manga, on the Mar Menor in Murcia, to Gloucester Docks on the River Severn in England for a refit by T. Nielsen & Company.

Paul Deegan says

The refit by Tommi Nielsen should make it possible for her to return to Cayman in 2024. Once here, the classic schooner will be part of the not-for-profit Fair Weather Foundation. She will be used as a historical and cultural vessel to educate the children in all our schools about how our forefathers built the boats that enabled life to flourish on Cayman.
Thanks to Norma Connolly and the Cayman Compass.
Boat Transport News 2022

RUM-RUNNER TO LITTLE OLD LADY IN 3200 km



Âkersberga, Sweden, September 13, 2022: The 46ft mahogany International 8 mR sloop SKUM, packed with her slender 18m wooden mast, is ready to leave Säbyvikens Marina, near Stockholm, on a four-week, 2000-mile trans-continental haul to the Mediterranean Sea, during which her name will change for at least the sixth time in 120 years.

SKUMwhich means 'foam' in both Swedish and Norwegian, was not her name when she was launched in 1903 at Christian Jensen's boatyard at Vollen on the Oslo Fjord. Designed and built by Jensen as a 9 SL gaff-rigged zee und touren kreuzer to race in a new tri-national competition known as the Kattegatt Trophy, she was owned by Alfred Larsen, a wealthy Norwegian liquor importer who named her MAGDA III and entered her for Norway to race against the Swedish KATTEGATT and the Danish VERANA.

MAGDA III won a preliminary race but dragged her anchor in an unexpected storm on the night before the main event at Narverød and was too badly damaged to compete. VERANA won both races for Denmark. MAGDA III changed hands after repairs and re-appeared in 1905 as NAMI, in 1908 as ACT(EA)ON, in 1910 as DAGMAR before vanishing from the Norwegian register in 1915 after being sold in Finland during the First World War when that country was still a Russian grand duchy under the rule of Tsar Nicholas II.

The classy racer survived the First World War and the disintegration of the Russian empire. It is thought that she may have donated a lead keel for bullets during Finland's fight for independence after the 1917 Russian Revolution.

Swedish customs arrested her on July 17, 1931, outward bound near one of the Välets lighthouses in the Stockholm Archipelago, just after smuggling 200 10-liter canisters of 96 per cent Estonian tulivesi firewater vodka into Sweden. She was just one of hundreds of fast boats used in the gigantic 1920s smuggling rackets out of Danzig and Estonia, across the Vodka Sea to the booze-starved Nordic countries of Norway, Sweden and Finland. Sweden had almost voted for absolute prohibition of alcoholic drinks in a referendum in 1922. A bottle of vodka costing two marks in the Free City of Danzig fetched forty marks wholesale on the black market in Helsinki.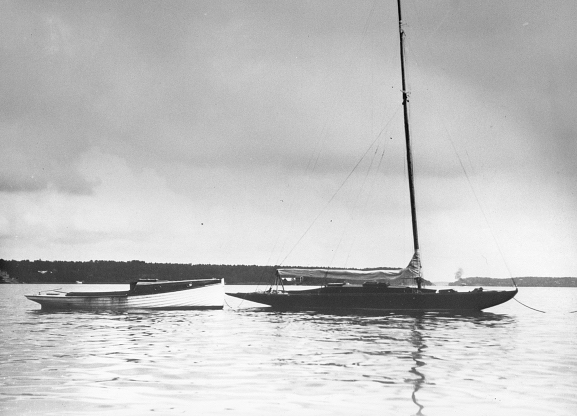 The Swedish government sold their prize to a police superintendent at the fortress base of Vaxholm. Her years of outrunning customs cutters were over. The greyhound of the Vodka Sea became a well-known family yacht in the Swedish Archipelago, sailing under several owners and once surviving a lightning strike that burned a hole in her deck.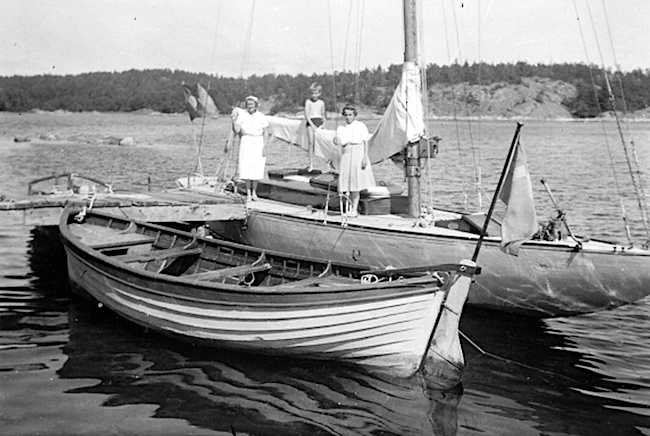 In 1936 one of her owners named her SKUM with a clever nod to her chequered history, for the Swedish word can also be used figuratively to mean something like shady, fishy or even dim.

The classic yacht enthusiasts Christer and Cecilia Nordwall found her under a torn tarpaulin in a Swedish forest clearing in 1998. In the January 2010 edition of Classic Boat magazine, Olle Appelberg reported that the Nordwalls had used nearly four cubic metres of new planking in their long restoration. Christer Nordwall said after the relaunch in 2009, "It was a great feeling to see her in the water. We spent every weekend on the boat all summer. I haven't regretted the hard work for one second."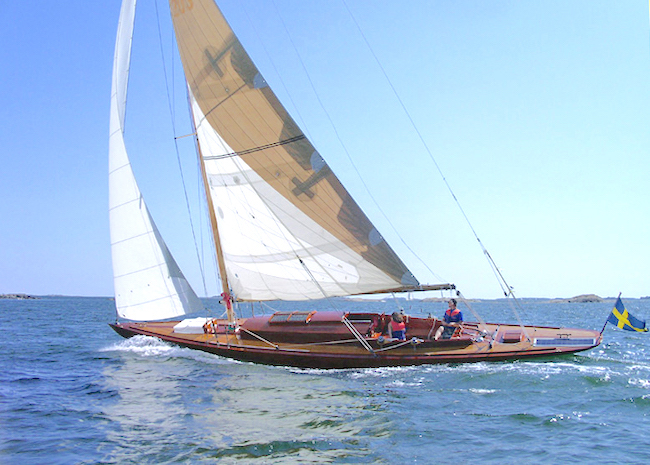 Christer and Cecilia Nordwall in action with their restored 8 mR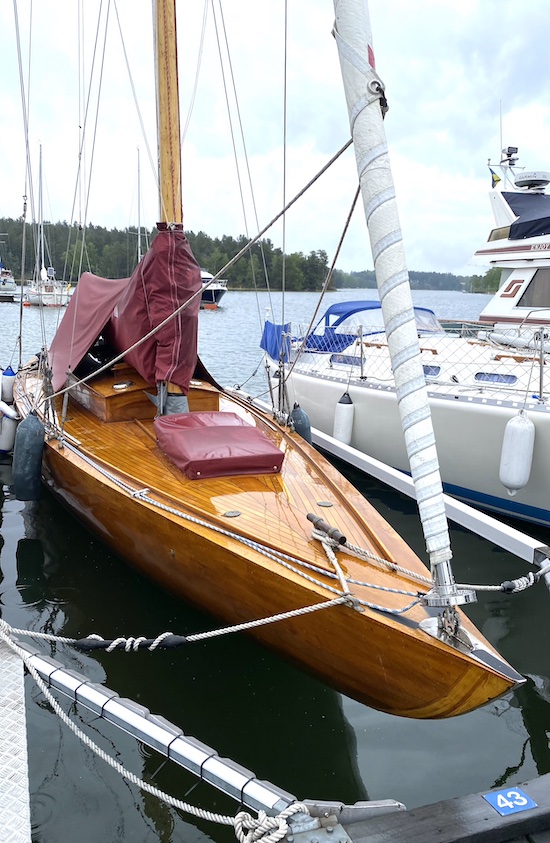 The new owner in 2022 became Marco Glauner of Karlsruhe who will sail her in the Mediterranean this summer under the German flag. Road transport on a schedule that fitted with the end of the sailing season in Sweden and boatyard resurfacing work at the to Club Náutico de Altea, in Alicante, involved storage in transit in the Netherlands at the Loosdrecht base of international hauliers Transportbedrijf Van de Wetering BV.

As lorry driver Koen Lemmens neared the multilingual Costa Blanca, transporters Sealand Boat Deliveries in England arranged Marco Glauner's tactful name change from the tricky Nordic, with its unpleasant meaning in English, to the Spanish VIEJITA, literally old lady but often used with affection, in the way Albert Chevalier sang about My Old Dutch in the London music halls after 1892.
We've been together now for forty years,
An' it don't seem a day too much,
There ain't a lady livin' in the land
As I'd swop for my dear old Dutch.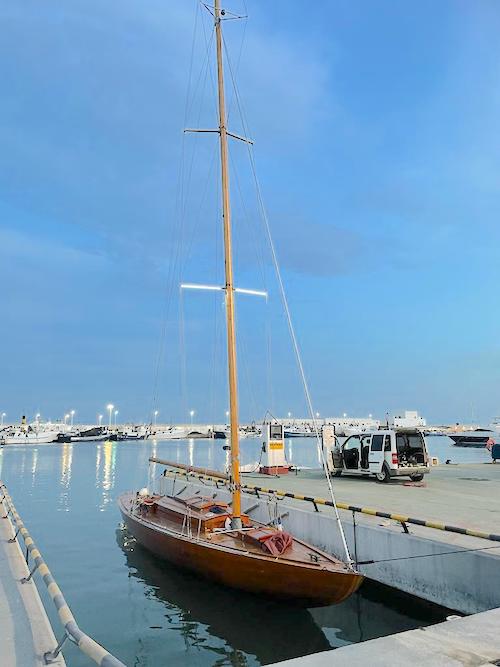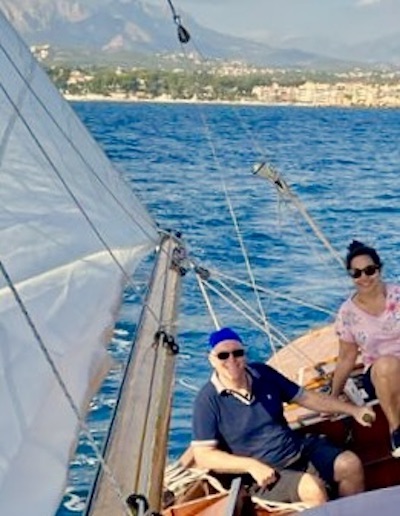 On November 2, 2022, the Glauners sailed VIEJITA out into Altea Bay with a new and endearing name that seemed perfect for the grand old lady who has sailed under so many flags and names through her 120 stormy years.

NEW DEAL FOR MYSTERY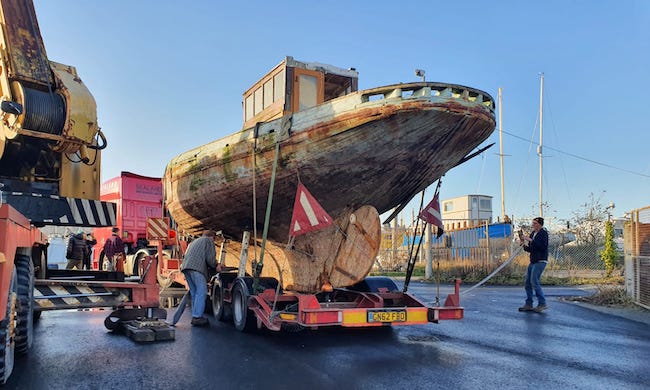 Porth Penrhyn, North Wales, January 11, 2022: The 110 years old Morecambe Bay shrimper MYSTERY II arrives for rebuilding by shipwrights at the specialist yard of Waterfront Marine.

Saved from demolition at Riverbank Road, Bromborough, in a timely 2017 intervention by the late Tom Middlebrook, a Merseyside insurance broker, MYSTERY II demanded a second rescue before dawn in Liverpool under the auspices of the Nobby Owners' Association campaigning for the preservation of "Lancashire nobbies, Morecambe Bay prawners and kindred gaff-rigged boats".

The job required two road trailers from Sealand Boat Deliveries and a 50T mobile crane and lifting team from Roadcraft in Bootle, to hoist the 12.6m x 3.65m 11500kg nobby out of a technical college yard before rolling a few inches under the first floor of an office block in Vauxhall Road, Liverpool.

Built by James Armour at Fleetwood in 1911 for Frank Hughes of Egremont, Wallasey, the gaff-rigged 41ft Mystery II won the Magazines Sailing Club Regatta in her very first summer.

Seven decades later, after two world wars and a hard life fishing from Conwy in North Wales, she was still fast enough to come second in the 1990 Liverpool Nobby race, using a suit of borrowed sails.

Moored for years as the mysterious LL59 in the Mersey tideway near the Tranmere Oil Terminal, she was well-known to thousands of seafarers. Norval 'Spike' Brown owned her for fifty years.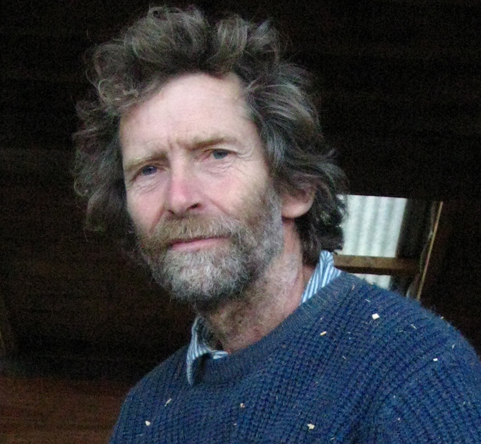 Adrian Farey from the Elwy Working Woods Co-operative at Moelfre, near Abergele, has taken on the project after an initial assessment by Scott Metcalfe of Waterfront Marine.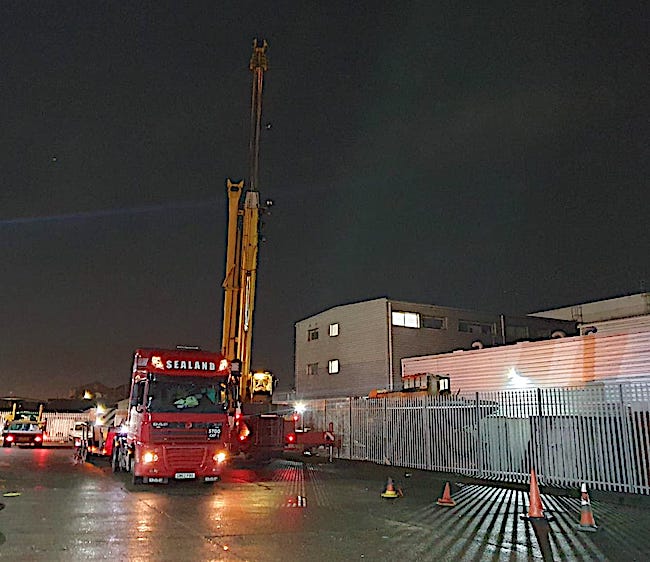 The darkest hour is just before the dawn
Boat Transport News 2021

NEW LIFE FOR COLD WAR CLASSIC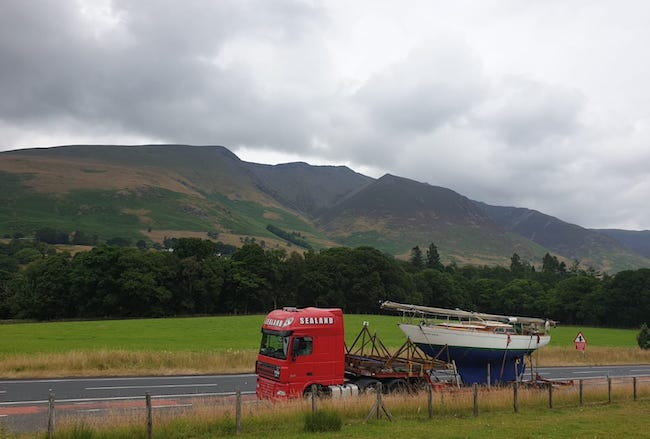 A66, Threlkeld, Cumbria, July 27, 2021: The 7-metre-class cruiser / racer ERLIN MOR, built in mahogany and teak in East Berlin in 1967, passes Blencathra in the English Lake District, bound for a new lease of life in Maryport, 53 years after her German designer raced her from the Clyde to the Isle of Mull in the famous Tobermory Race.

Thanks to the Cold War alliance between Fidel Castro and the German Democratic Republic, her mahogany planks were probably best Cuban, rather than Honduran, the finest dark Swietenia mahagoni on steam-bent frames under decks laid in solid teak at VEB Yachtwerft Berlin in Köpenick, a yard founded in 1890.

Despite trading barriers far worse than Brexit 2021, the adventurous Glasgow yacht broker, R.M. "Ronnie" Scott, had been importing East German versions of the Nordic Folkboat to customers at his Euroyachts city centre showroom since 1965. In the German Democratic Republic, he eventually befriended the Stasi secret policeman tasked with tailing him around the Leipzig trade fair and into state-owned boatyards with long histories of pre-war craftsmanship going back to Imperial Germany.

Ronnie's foreign expeditions eventually led to a forty-year trading partnership between Euroyachts and the French company Jeanneau.

He liked to display his discoveries in action on the Clyde during Glasgow Fair Weekend, the ancient late July holiday that has been dated back to the year 1190.

For nearly a hundred years yachtsmen, rich and poor of all nations, have gathered off Rothesay at Glasgow Fair Weekend for the event they call the Tobermory Race, sailing in stages from the Clyde to Ardrishaig, through the Crinan Canal and on through the fierce tide race of the Dhorus Mhor and past the notorious whirlpool in the Gulf of Corryvreckan to Tobermory Bay on the Isle of Mull.

The Glasgow Herald announced that 1968 would be a big yachting year on the Clyde with a hundred yachts joining the Tobermory Race to be televised as BBC Scotland's first-ever colour TV outside broadcast. The young Icelandic-born TV presenter Magnus Magnusson and a BBC camera crew would be aboard Ian Nicholson's 8-metre yacht St Mary with another cameraman high above the racing fleet, filming from a helicopter.

The buccaneering Ronnie Scott was busy popularising a new international 7-metre class of cruiser/racer, cheaper than the fifty-foot 8-metres on the Clyde. Scott's salesmanship was legendary but the graceful 8-metres were never outnumbered and many are still around in 2021.

Ronnie told the Herald that two German 7-metres ERLIN MOR and SHONA III had already been delivered from the DDR to his unusual city centre boatyard. A third yacht PELLINGAR III was due to be shipped from Berlin to Glasgow in March and two Scottish-built 7-metres, ZELEDA, building at McGruer's yard at Clynder on the Gareloch and NORELLA building at Sandbank, would mean that five 7-metres would be contesting the Tobermory Race. Despite Cold War politics ERLIN MOR would be campaigned in the Tobermory Race by her East German designer, Werner Siegel of VEB Yachtwerft Berlin.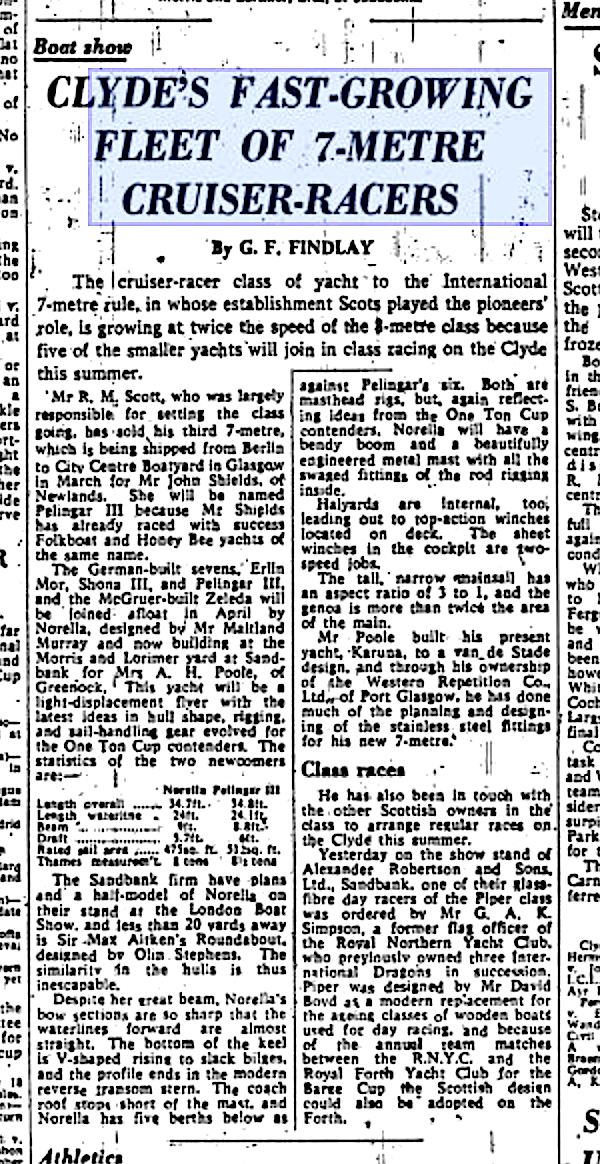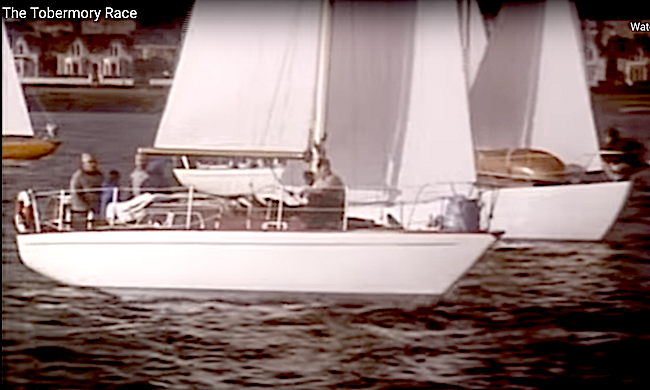 ERLIN MOR appears at 03:53 in the surviving 1968 BBC film available online today thanks to the Peggy Bawn Press, to YouTube and to the Dylan Winters blog Keep Turning Left

Ian Nicholson's fancied 8-metre ST MARY, carrying much of the BBC equipment, never made up time lost after grounding in the Kyles and again off Crinan. The winner of the 1968 race was another 8-metre, Kenny Gall's Christina of Cascais. The mahogany German 7-metres were losing the Zeitgeist. Glass-reinforced plastic yachts were appearing in Western Europe and the USA. But to the credit of both Werner Siegel and Ronnie Scott, many wooden yachts from VEB Yachtwerft have had very long lives. ERLIN MOR was seen club racing on Strangford Lough in Northern Ireland in the twenty-first century, but suddenly turned up in June 2021 on a deep water mooring off Whale Island in Portsmouth Harbour, offered for sale by the ominously named Boatbreakers firm in Gosport.

"Boat demolition & disposal for any yacht, motorboat or ship, any size, any condition, anywhere"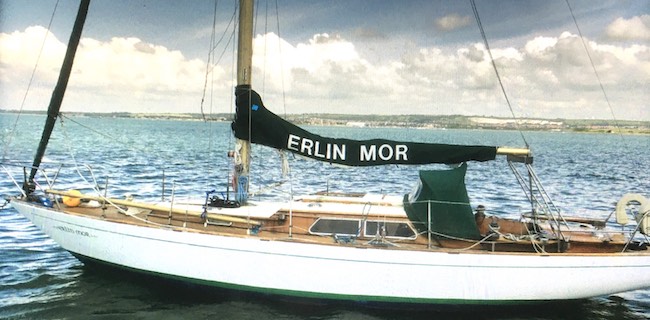 Yachtsman Darren Webster, living on the Ards Peninsula in Northern Ireland, noticed the alarming message and remembered ERLIN MOR from her years on Strangford Lough.

"I knew that my friend Julian Armitage in Cumbria was looking for a larger yacht. I told him about Erlin Mor and urged him in the strongest possible terms that she had to be rescued and refitted, not stripped and scrapped. Julian trusts me on all matters marine. He got into contact with Boatbreakers and made the purchase. Erlin Mor will get the attention she deserves and will once again sail across the Irish Sea. I told Julian that Erlin Mor was, and is, the most beautiful boat he will ever own."

Julian Armitage made a deal with Luke Edney at www.boatbreakers.com for the 34ft 9in sloop to be towed from Whale Island to Gosport Boatyard for a tightly-timed 367-mile road delivery to safety on the hard at Maryport Marina.

Andrew Rosthorn at Sealand Boat Deliveries said, "I liked the idea of rescuing one of Ronnie Scott's German 7-metres from demolition in 2021. We worked for Euroyachts in the 1970s when Ronnie was starting to import from Italy and France. He was a great deal-maker and we were often too expensive for him. But in September 1977 Ronnie ordered an urgent delivery of a 34ft Grand Soleil yacht from the Cantiere del Pardo in Bologna. We had no time to apply for Italian wide load permits, so we sent a very diplomatic driver with some cash to smooth things with the Italian police. That was the way it was in those days.

"Unfortunately a rival Italian haulier outwitted our efforts at bribery. Our man was turned away and Ronnie was incandescent. Despite a successful second attempt and a faultless drive though the Alps by my partner Graham Hasleden, we were three weeks late in Glasgow."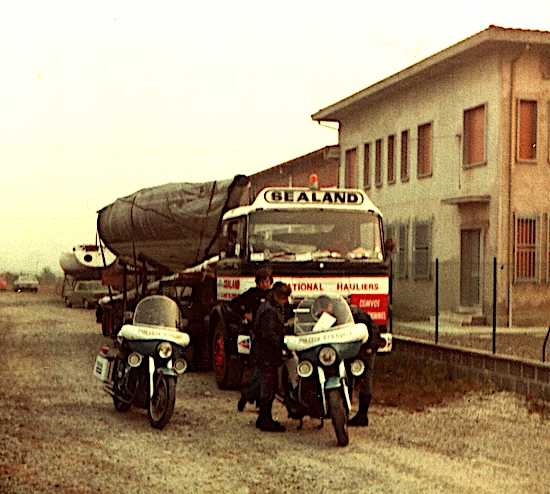 Bologna, October 1977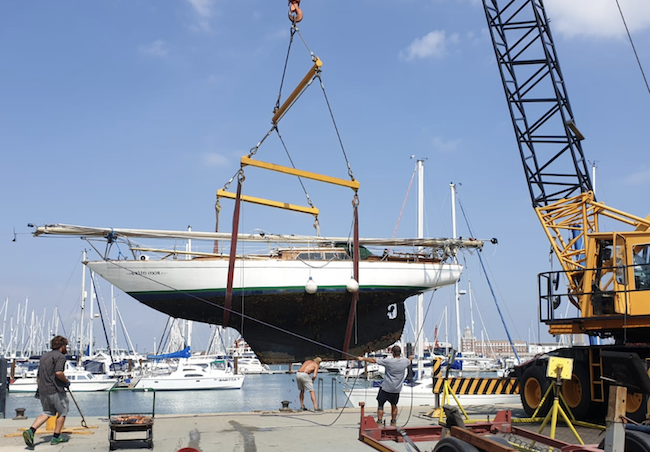 Gosport Boatyard, July 27, 2021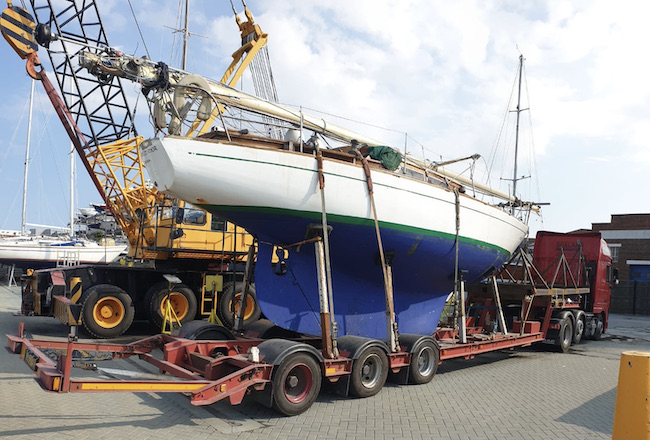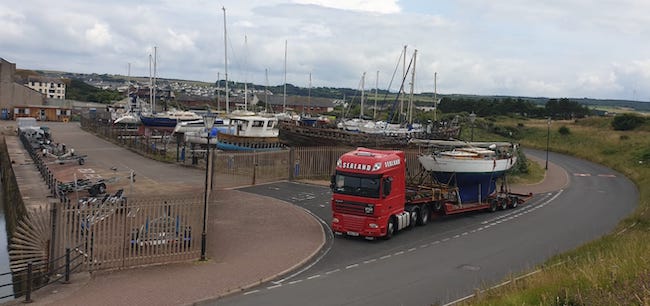 Rescued in Maryport
THE LEAVING OF LIVERPOOL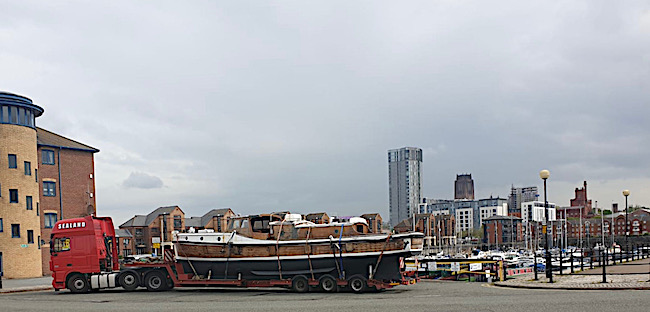 Brunswick Dock, Liverpool, May 13, 2021: After 58 years service on the Mersey, SURVEYOR 6, the last of the harbour board half-deckers, left the port for a new life.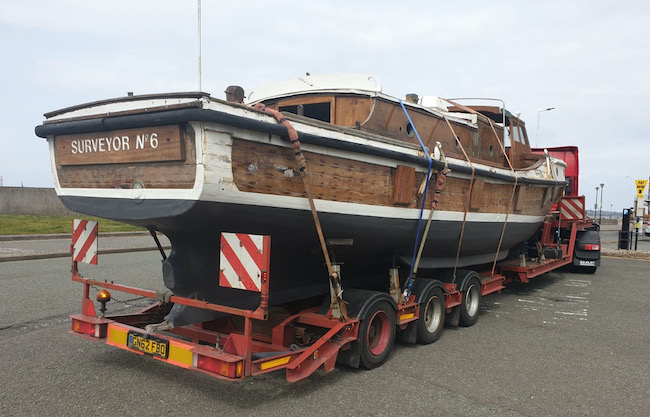 She was designed and built in 1963 in copper-fastened mahogany on oak frames by Henry B. Hornby & Co of Wallasey, builders of generations of the rugged West African surf boats that were lowered from freighters to transfer cargo and passengers on the West African roadsteads, a mile off the shelving Atlantic beaches of the Gold Coast.

The MDHB master mariners who ordered the 41ft [12.5m] 12-tonne launch in 1962 for duty inside the docks and out on the exposed Mersey Bar were demanding clients.

A superb Gardner 6LX oil engine and gearbox were matched with Kitchen patent clam-shell rudder gear to give reversed directional thrust like the clam-shell thrust reversing systems on jet airliners.

The inventor of the steering system, John G. A. Kitchen of Storrs, Windermere, enabled a single engine to be run in gear at a constant, economical speed even when the vessel needed to be stationary. The vessel could turn in her own length.

Under under the recent ownership of the Farrell family, SURVEYOR became well-known around the Irish Sea and much admired at the traditional boat weekends in Peel, Isle of Man.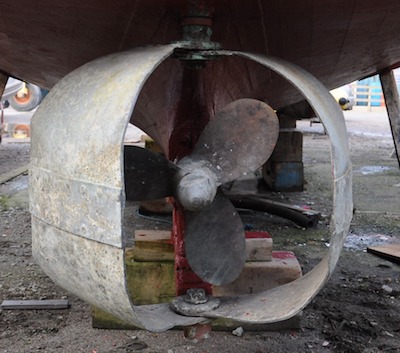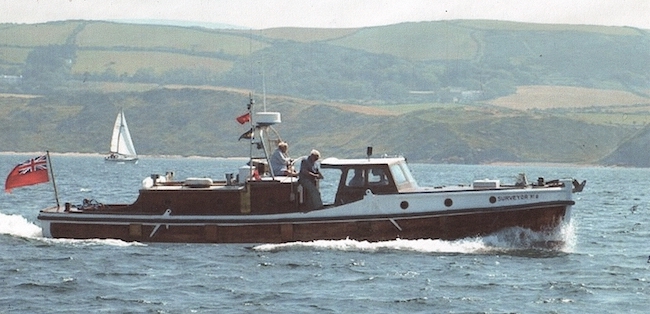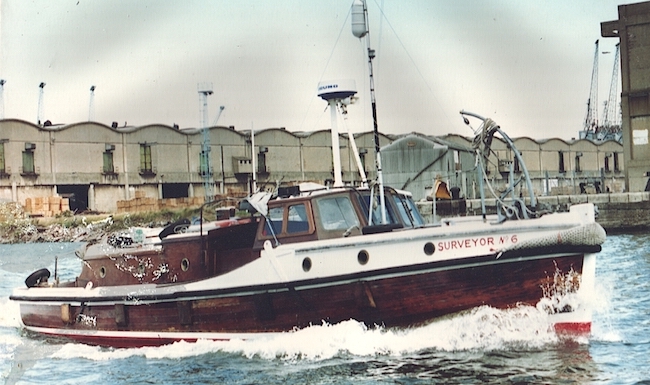 The legendary Gardner 6LX, delivered 110hp @ 1300 rpm hp [80,9Kw], driving a Gardner 2UC gearbox at 12 knots, achieving a fuel consumption of 2 litres per hour.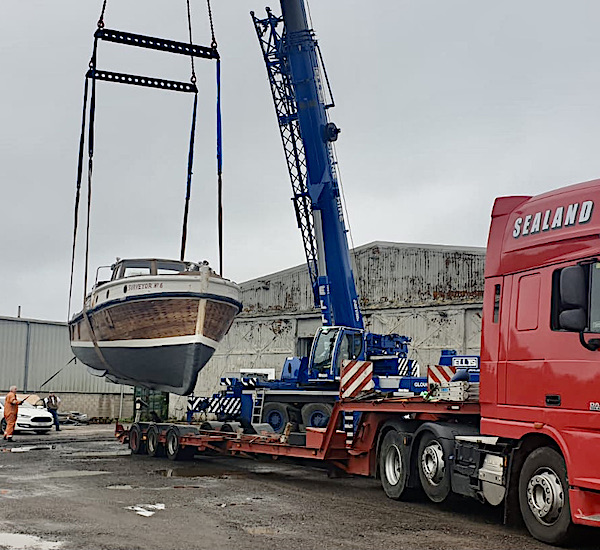 Sealand Boat Deliveries transported Surveyor 6 to restoration workshops in Gloucestershire for eventual installation at an hotel project in Worcestershire.

It's not the leaving of Liverpool that grieves me

But my darling when I think of thee.

Boat Transport News 2020

WHISPERING WIND CATCHING TIDE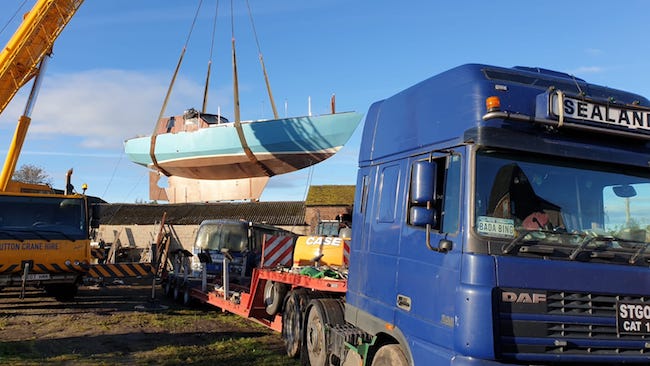 Middleton, Manchester, October 15, 2020: Nine years and five months after buying a bare steel hull in a Surrey farmyard, yacht builder John Frubin handed over his project to a crane driver and a lorry driver in a Greater Manchester farmyard, during the second UK COVID-19 lockdown.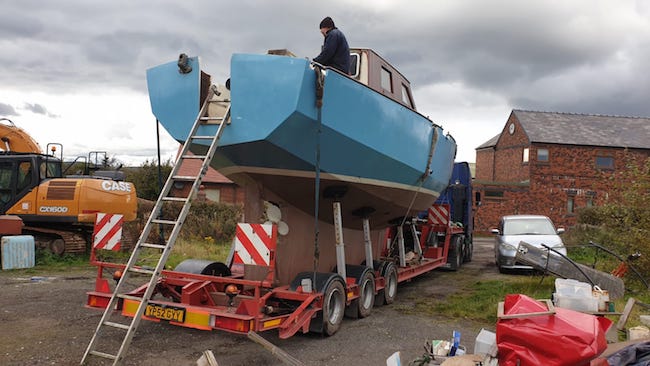 John's plan called for a socially-distanced mobile crane lift, a police-restricted, daylight-only wide-load road delivery to catch the Irish Sea spring tides at Fleetwood. His plan to winter his new 12-tonne Bruce Roberts 39 sloop Whispering Wind in a sheltered mud berth at Wardleys Creek on the River Wyre depended on packing two sections of his 18.0m mast inside the hull and launching by boat hoist at Fleetwood Haven Marina for a maiden shakedown passage over a tricky S-shaped course, under motor, to the creek among the marshes where long ago Lancashire, Manx and Irish sailors landed French brandy, American tobacco and Russian flax, well away from excisemen.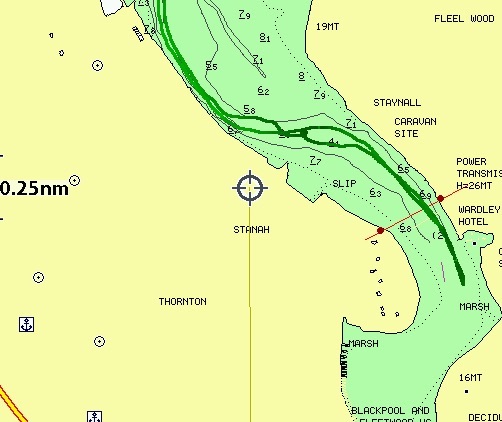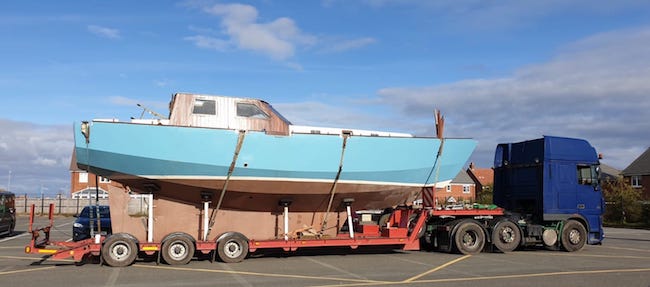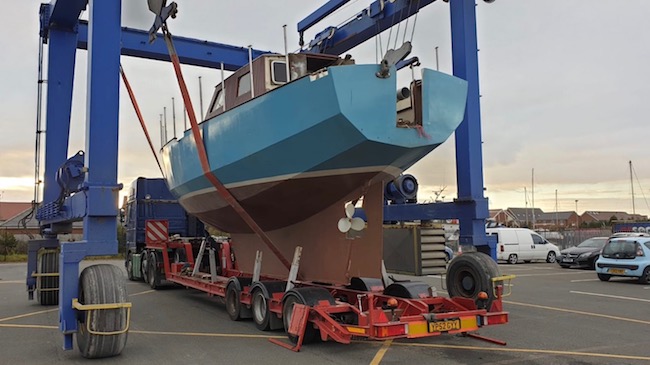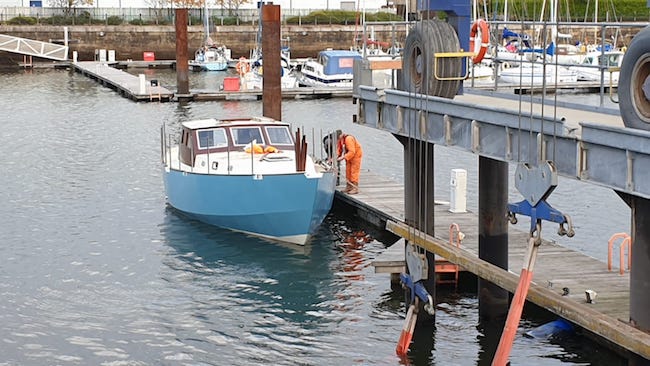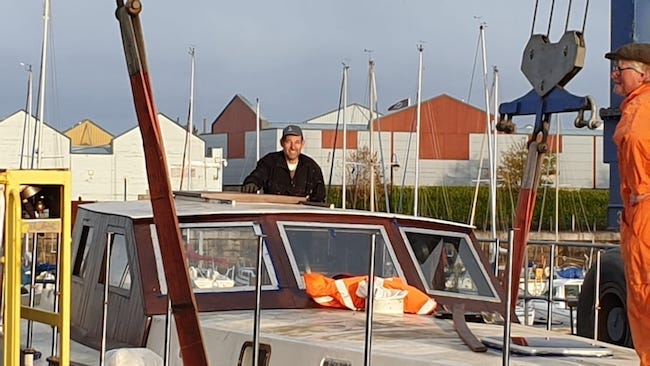 John Frubin, latest in a long line of intrepid boat-builders from Rochdale, the birthplace of co-operation.

AGWI BACK TO WORK


Liverpool, March 13: After forty years service handling mooring lines for tankers in Southampton Water, the former oil refinery mooring launch Agwi arrived in Liverpool for a new career that includes the berthing of cruise ships on the River Mersey.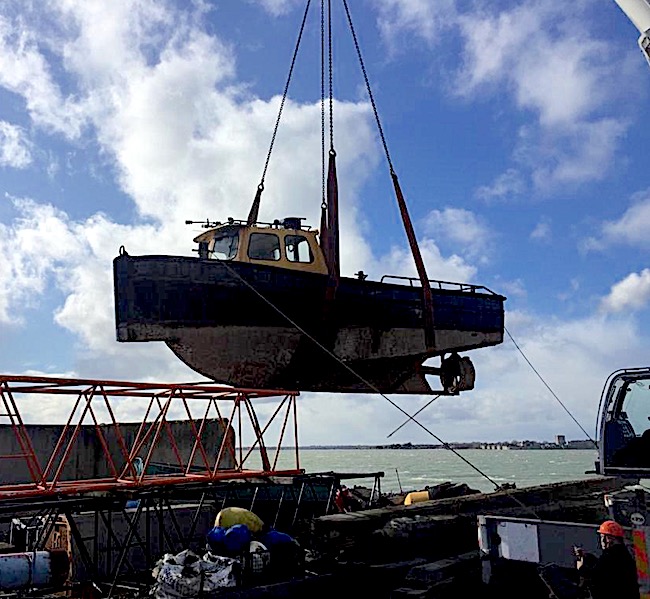 Plucked from a wilderness of wreckage at the old Harry Pound shipbreaking yard at Tipner Point in Portsmouth Harbour, a graveyard for everything from Royal Navy submarines to Chieftain tanks, the 15-tonne workboat has just earned a major re-fit in the Bluepoint yard at Brunswick Dock in Liverpool. Her name will seem strange when she enters service on the Mersey but most Hampshire mariners know that the first AGWI was the Atlantic, Gulf and West Indies Petroleum Company, the firm that built the 1921 oil refinery at Fawley on Southampton Water, still providing one fifth of UK refining capacity after 99 years. The refinery has been 95 years under American ownership as Esso Fawley. Agwi served as mooring launch for the 4,500 annual tanker movements at the Fawley Marine Terminal.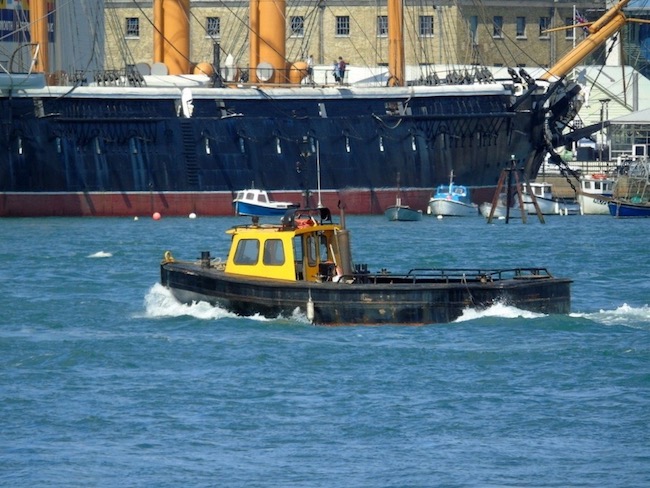 In July 2015, Ships Nostalgia member MICHAEL BELFAST photographed the 10-metre pusher tug at work for Baker Trayte Marine of Southsea near HMS Warrior in Portsmouth Harbour.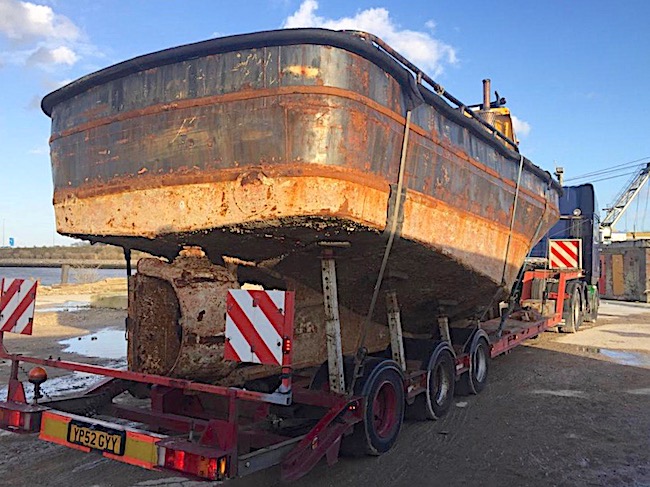 Bluepoint Marine Services of Liverpool verified the 200hp Cummins diesel engine that drives an SCG 3-1 reduction gearbox with 2.5 tonnes bollard pull, before handing Agwi over to Mark Chapman of Sealand Boat Deliveries for the overnight haul north. Bluepoint manager Andy Farrell said:
We bought Agwi for civils and dredging operations and for service as a workboat in the Liverpool dock and canal system. Agwi will work on berthing duties at the 350-metre Liverpool Cruise Terminal, before handing over that duty to Neptune, another of our vessels. She will also be involved in underwater ploughing, surveying and diving operations. Her hull has already been blasted and painted during a mini overhaul.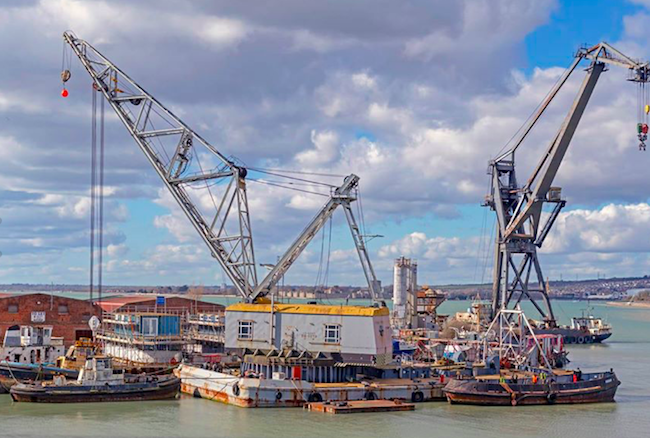 H.G. Pound, founded in Portsmouth in 1864, diversified into shipbreaking after the First World War. The yard became so famous as a source of military hardware for museums that Steve A. Wenham records online the comings and breakings at the isolated Tipner Point where the Royal Navy built gunpowder magazines during the Napoleonic Wars.

GOODBYE CANAL STREET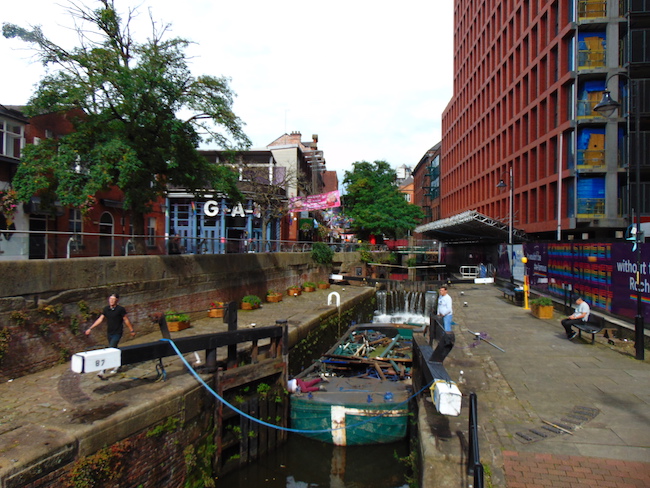 Manchester, August 22, 2019: After a decade moored on the Rochdale Canal, serving as balcony for a city-centre bar, one of the very last of the Leeds and Liverpool short boats lay jammed in the gates of Lock 87.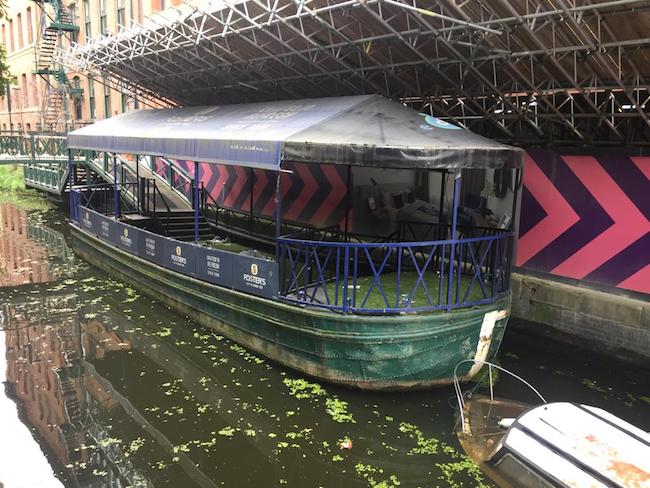 The powers that be in the crowded parts of the city had ordered that the pre-war 'shortened' short boat needed to be out of sight before the start of their Manchester Pride weekend, a summertime LGBT and equality festival in the city's world famous Gay Village.
But moving Barge 87 from Canal Street presented some immediate problems. Her canopy and railings were too high to enter the first tunnel under Princess Street and at Lock Gate 87 hard-packed sand, silted in the stone gate recesses, prevented the four-man hauling team from opening the gates to the full fourteen feet for which they were designed and built in 1800. Manchester's current building boom left no wharfage for demolition or craning operations.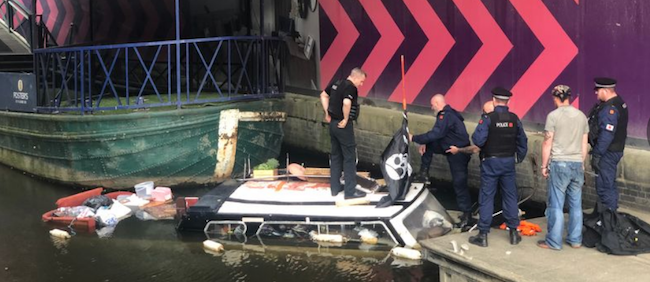 After police found no signs of human life aboard a sunken motor cruiser, decks awash but sporting a Jolly Roger, they gave their 'all clear' for Canal and River Trust contractors to raise and tow away the offending wreck.
The famous Leeds and Liverpool short boats were never much more than 60ft long, but built 14ft wide to carry 45 tonnes of cargo through the broad but limited-length 18.8m x 4.3m locks between Wigan and Leeds. They carried twice the payload of a narrowboat.

In the later years of her long working career the barge that turned up in Canal Street had lost her magnificent L & L transom when she was cut down in Yorkshire and given a new welded flat stern for working with a pusher tug.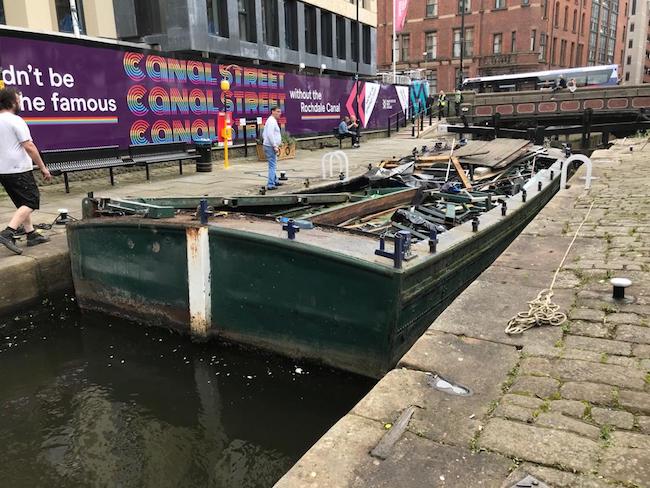 The new owners of the barge demolished her canopy, her railings and her boarding ramp and loaded the barge with what is likely to have been her very last cargo of scrap metal, before her departure for a new life as a floating home in West Lancashire. If the lock gates could be opened wide enough, the demolition team and a team from Sealand Boat Deliveries were planning a short voyage, powered by men with long warps, to the open and lock-free waters of the Bridgewater Canal for a tow by tug to the other side of Parbold.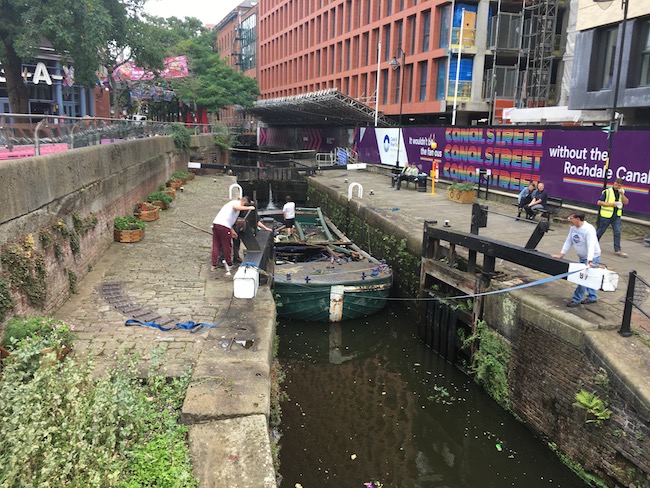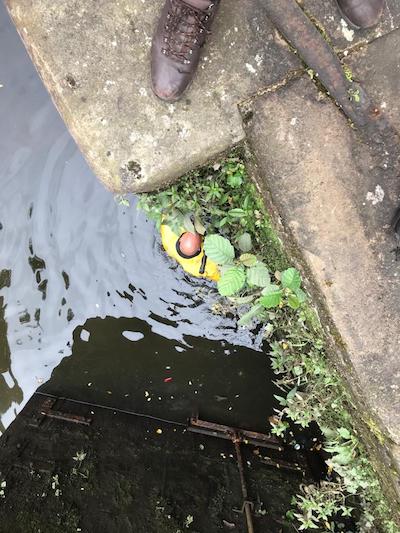 Only the Canal and River Trust have the tackle and know-how for clearing mitre-gate recesses. So after three hours of wrestling with Barge 87 jammed in the gates of Lock 87, a C&RT man in a bright yellow, neck-high, waterproof suit entered the water from the Canal Street towpath and raked out enough silt to get the gates opened to near-maximum Rochdale Canal dimensions.

Then, to the delight of dozens of city flâneurs, the C&RT men opened a series of valves and gate paddles and poured millions of gallons of water down the cut, building up a big head of water behind the old girl that eventually surged her through various pinch points using champagne cork technology. Water flooded the towpaths, but it worked.`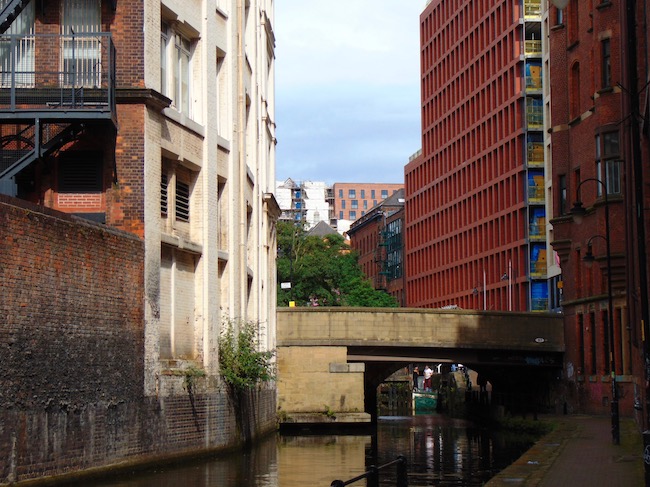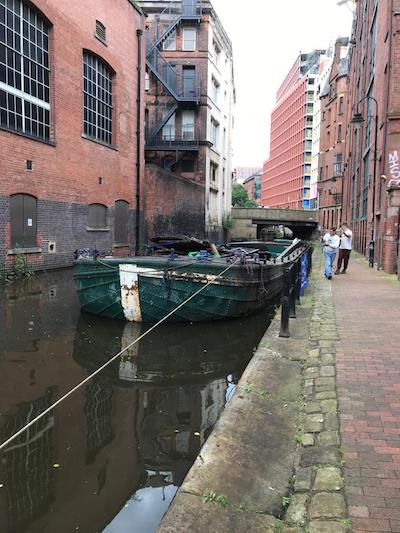 More than one of the August flâneurs remarked that the sight of a working widebeam barge descending a two hundred years old flight of locks might well have attracted the rainy city's greatest twentieth century painters, L.S. Lowry and his mentor Pierre Adolphe Valette.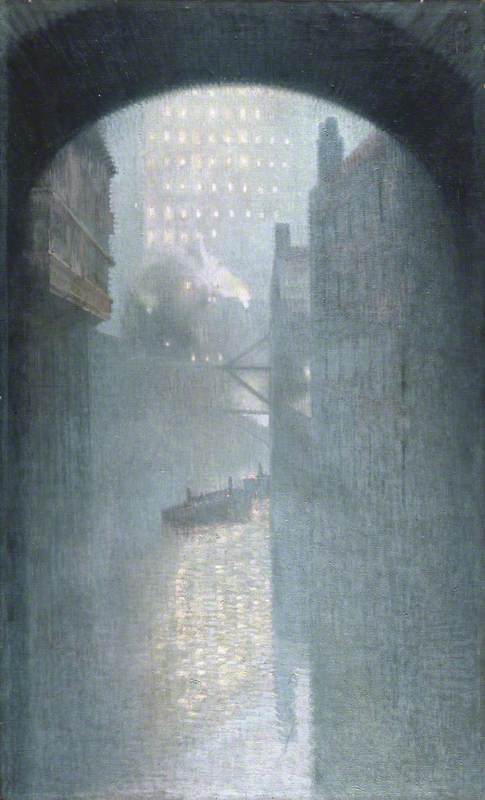 India House, Manchester by Adolphe Valette Manchester Art Gallery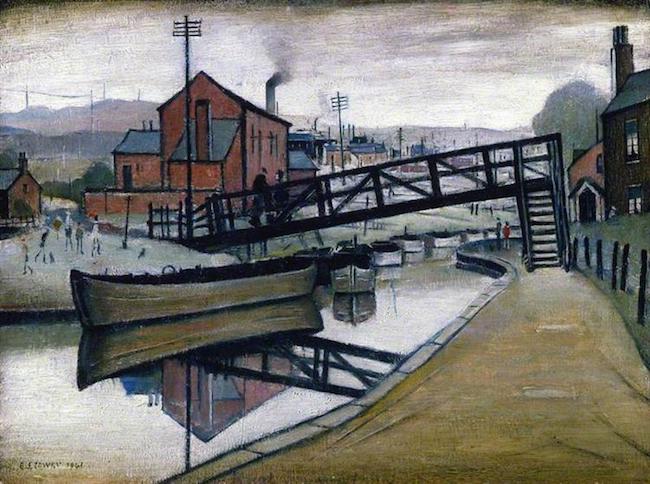 Barges on a Canal, 1941 by L.S. Lowry
TWIZZLE CREEK TO RIVER ASLAND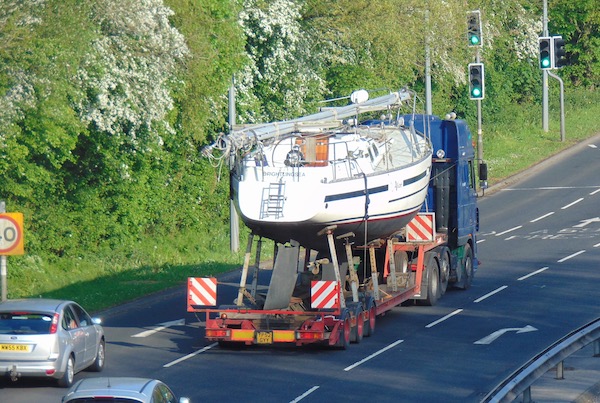 Hesketh Bank, Lancashire GB, April 29, 2019: In transit from a remote anchorage on Arthur Ransome's Secret Water, an East Coast race-winner nears an ancient West Coast boatyard. The German-built Hacker Caribic 40 ALIZÉ won the Colne Yacht Club Ostende Rally in 2007 and 2008 and the River Colne Spring Series races on the Essex coast back in 2009.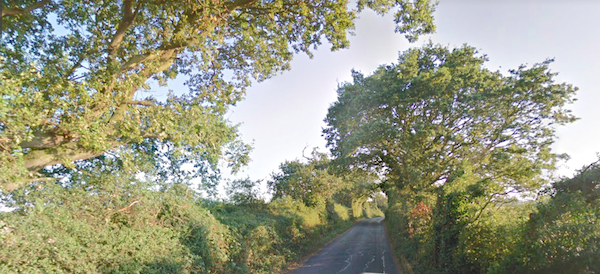 To avoid overhanging trees on Coles Lane, Walton-on-the-Naze, a long and narrow road that leads across the Essex marshes to moorings in Twizzle Creek, ALIZÉ had been sailed away from Ransome's beloved Walton Backwaters to be lifted to transport at Suffolk Yacht Harbour on the River Orwell.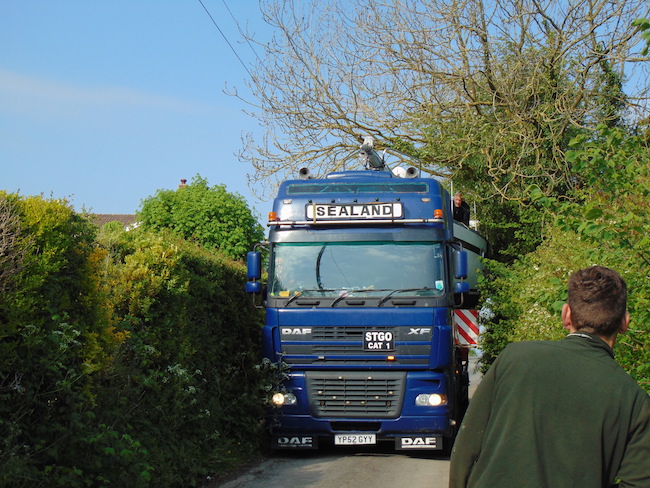 Yet lorry driver Mark Chapman faced many more trees to bring the cruiser-racer to shipwrights at Douglas Boatyard on the banks of the River Asland, the estuary of the River Douglas, where boats have been fettled for the Irish Sea for at least a thousand years.

The 8-tonne, 13-metre cruiser-racer, designed by Kurt Schröter, was built at the Hacker Werft in Travemünde on the Baltic Sea in 1997.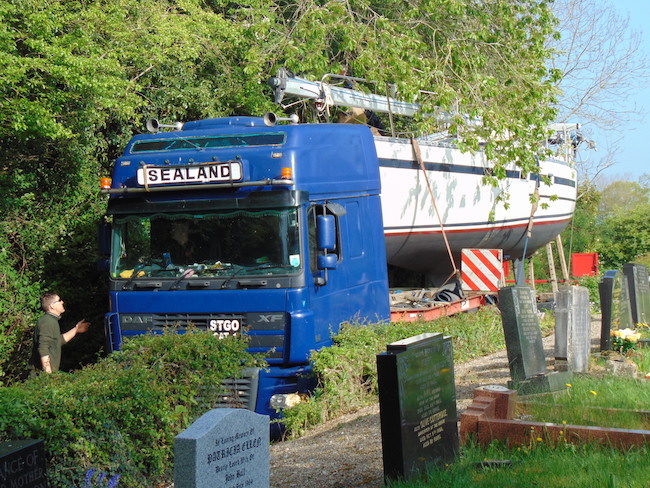 The narrow Becconsall Lane turns very tightly at Becconsall Old Church, avoiding a graveyard where many sailors have been buried, including James Blundell, a guide to the treacherous Ribble Sands who drowned in 1844, according to his gravestone:

Often times I have crossed the sands
And through the Ribble deep
But I was found in Astland drown'd
Which caused me here to sleep
It was Gods will it should be so
Some way or other all must go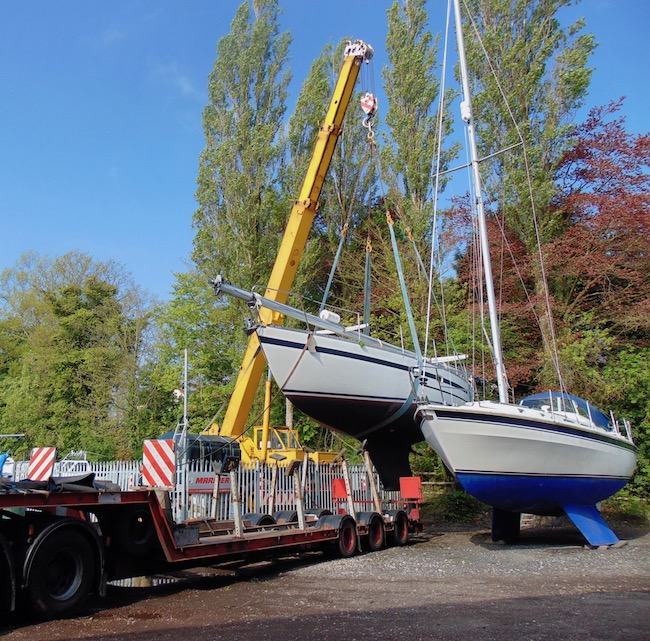 Yard manager Grant Jackson and the team at Douglas Marine lifted the remarkably unscratched ALIZÉ for her spring re-fit on the ancient Hesketh Bank wharf, where in the reign of Elizabeth I, Nicholas Bonnde's ship Bartholomew of Liverpool unloaded in 1565 3 tons of ferri [iron], 1 ton of sal [salt], 25 windles of avenax [oats], 2 sacks of pissax [peas] and 6 windles of fri [wheat].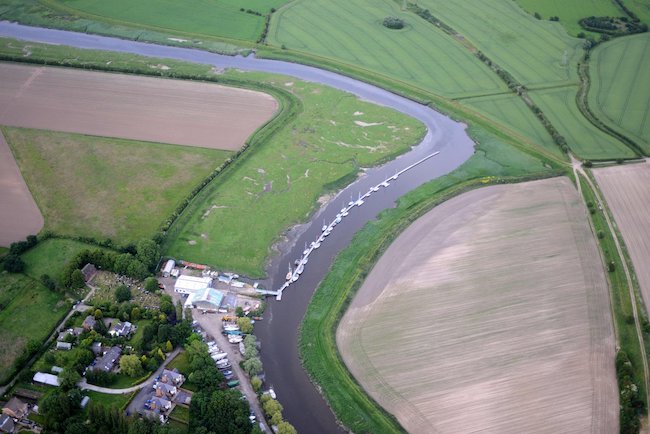 CLICK view of Douglas Boatyard for A Short History of Maritime Activity on the River Douglas (or Asland) at Hesketh Bank and Tarleton by Graham J. Fairhurst.
Boat Transport News 2018

NEW LADY O'T' LAKE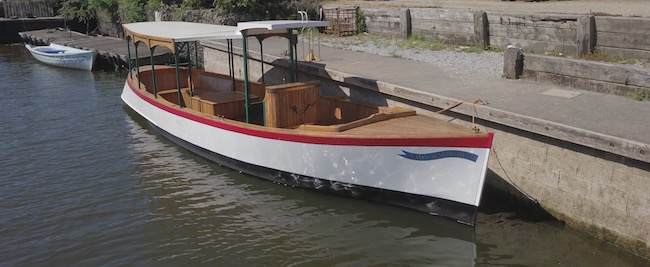 Hollingworth Lake, Littleborough GB, June 29: For the first time since 2009, there's an excursion cruiser working the Lancashire lake known to generations of millworkers as Weighvers' Seaport.

In 1875 thousands of mill hands walked to the lake from Smithy Bridge railway station to watch Captain Matthew Webb training for the first recorded swim across the English Channel.

In Victorian days there were often three steamers at work on the 53-hectare lake that had been created in 1800 to feed the locks of the trans-Pennine Rochdale Canal.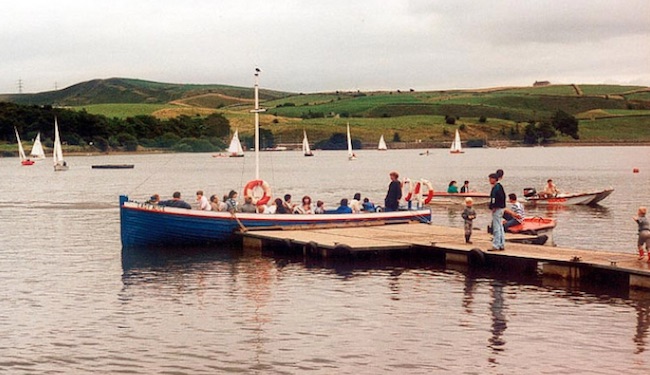 A much-loved wooden, clinker-built boat of uncertain origin, Lady Alice, arrived from Whitley Bay in 1927 and after the swan song of the steamers, the 34-foot trip boat carried an average 15,000 visitors around the lake every year until she was moth-balled for major repairs in 2009.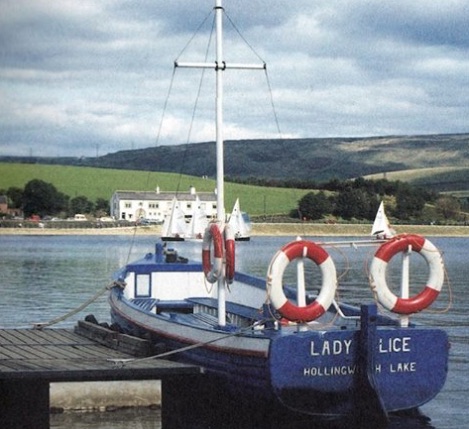 Faced by a £16,000 repair estimate for Lady Alice, the Rochdale Boroughwide Cultural Trust, known as Link4Life, rustled up £26,000 to buy themselves a graceful stand-in. She is a 10.5 metre motorboat, built in steel as recently as 2007 but blessed with fine lines and a charming Edwardian-style canopy.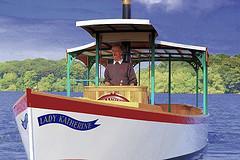 The LADY KATHERINE was built as a steamer by Webster and Lewery at Wem and designed for cruising on the idyllic, and much more aristocratic waters of Ellesmere, an ice-age lake donated to the people of Shropshire in 1953 by Peregrine Cust, 6th Baron Brownlow. Gavin Lewery named his new steam yacht after Lady Brownlow and told the Shropshire Star: "I felt the Mere at Ellesmere had a certain Victorian feel about it and I had a vision of this Victorian-style steamboat sailing on the lake."

The 20-horsepower replica Victorian steam engine, fed by a 21st century bio-fuel boiler, eventually proved "un-economic" for occasional cruising days on the idyllic mere and has now been replaced by a 13.5 bhp Beta Marine 2-cylinder diesel.

In June 2018, Gavin's team handed the 6-tonne flat-bottomed cruiser over to boat transporters Sealand for a complicated launching operation on a patch of reclaimed land alongside shallow water at the Hollingworth Lake Sailing Club, selected as the only safe area for operating a 55T mobile crane from Emsley Crane Hire in Harrogate.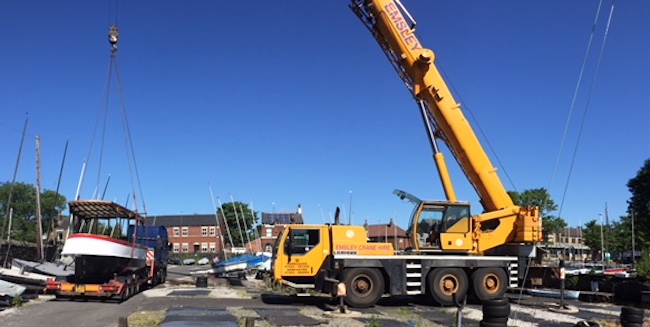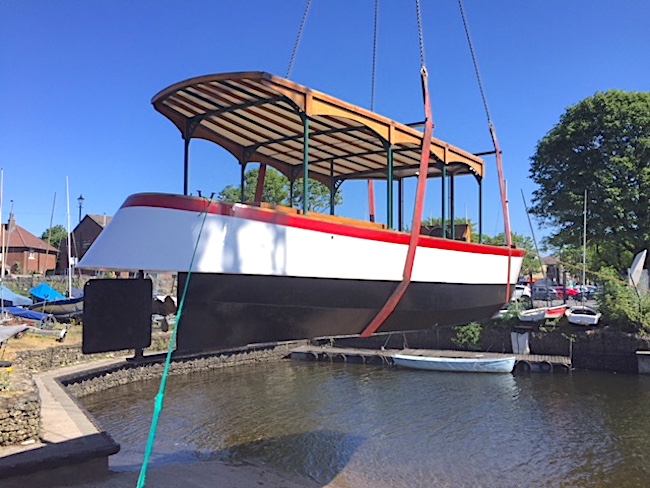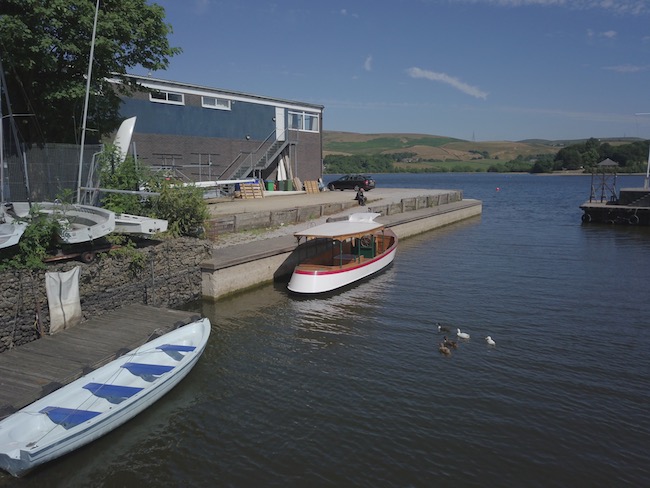 WINDSWEPT AND THE WHIRLWIND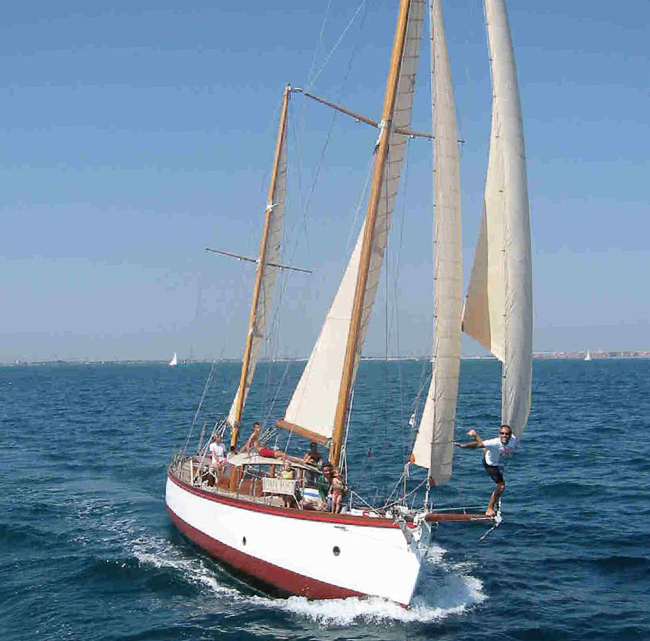 Littlehampton GB, 1939: For the first four months of the Second World War, a bookish, half-French schoolgirl lived aboard a 54ft Hillyard ketch on a deep water mooring in the River Arun.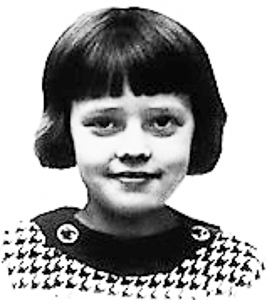 The bilingual 11 year old would be described by Orson Welles in 1967 as 'the greatest actress in the world'.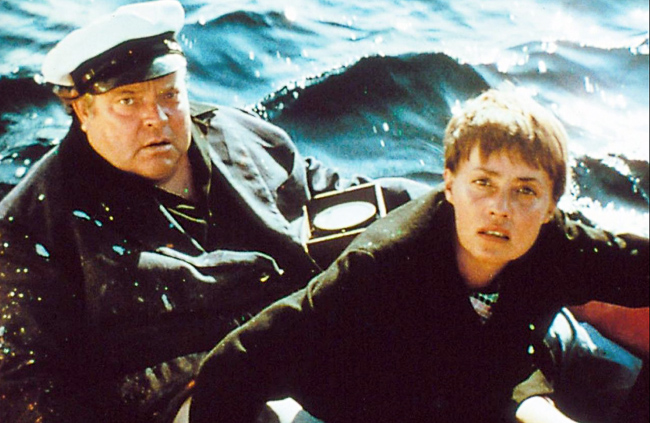 Jeanne Moreau, who died in Paris last year at 89, never forgot the ketch Windswept, or the name of the little fishing boat Wagtail used by her English grandfather Granville Buckley as the tender to his yacht.

Granville Buckley was a former sailing trawler skipper. He had sold his own 58ft jigger smack Alicia FD 60 at Fleetwood in 1905. In the summer and autumn of 1939 he sheltered Jeanne with her mother and her baby sister aboard the hefty 'double-ender' that David Hillyard's men had built in mahogany on oak at the Ropewalk in Littlehampton in 1936.

The future star of Louis Malle's film Lift to the Scaffold, of Jules et Jim for François Truffaut and three movies for Orson Welles, was the unexpected and sometimes unwanted daughter of a 20-year old Lancashire girl who went dancing with the Tiller Girls at the Folies Bergère in the roaring twenties. So the first words ever delivered by Jeanne Moreau were spoken in Lancashire-accented English on a summer holiday at her grandfather's house in Oldham. He called her Chatterbox.

Fifty years later, after marriages and affairs with famous Frenchmen, with men as varied as Pierre Cardin and Lee Marvin, after a dramatic Hollywood separation from the director of The Exorcist and after being named as a co-respondent by Vanessa Redgrave, 'La Moreau' was asked if she had ever loved an Englishman. "Yes", she said. "He had the impossible name of Granville. He was my grandfather."

She told the French novelist Yvonne Baby that grandfather was "mad about Joseph Conrad."
I think he once met Conrad. He wrote articles for the maritime journals, acquired himself a boat with the magnificent name Windswept and rented himself out with the yacht in summer, giving courses in navigation. There were books by Conrad in his library and I read them all in English. I am totally bilingual. I went to school in England during the war.

I was eleven, captivated by voyages and a life at sea discovering islands.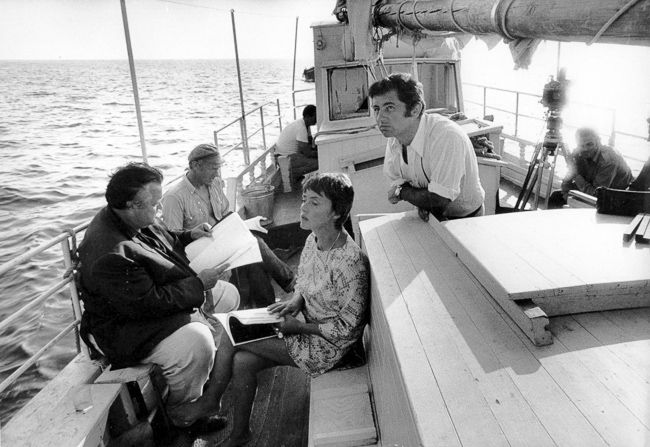 Orson Welles, Michael Bryant, Jeanne Moreau and cameraman Willy Kurant filming off the Croatian island of Hvar on Welles's unfinished 1966-9 film The Deep. WILLY KURANT

Describing film-making to the Canadian photographer Shawn Dogimont in 2012, Moreau said
Filming is concentration. Just as writers very rarely say they jump around with joy when they are in front of a blank page, there can be a passion and you can feel you're on the right track. It's a very strange world. For somebody with nothing to do on the set, it's like somebody who's seasick, who doesn't know what it is to sail. The only thing you can do with that person is ask him to go downstairs and vomit, or whatever. But don't be on deck. I learned how to sail with my grandpa. My grandpa in England was a sailor.

He taught me how to repair the nets and things. He kept me busy. He would say, 'There's water! Pump.' Or 'Today is clear. Maybe we see the coast of France.'
Biographer Marianne Gray noted in 1994 that Jeanne Moreau could still sing Vera Lynn's 1939 version of the daily envoi given by 'Uncle Mac' at the end of every BBC radio Children's Hour: "Goodnight, children, everywhere".

"If my mother had left my father sooner. I would have been an English actress."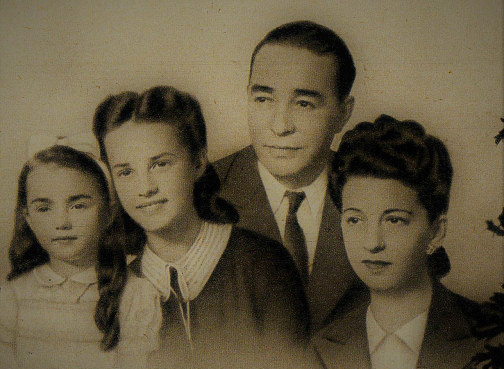 Jeanne's father, Anatole Moreau, had been the insomniac co-owner of a fashionable late-night bistro in Montmartre frequented by the Tiller Girls and their American Folies Bergère star Josephine Baker.

Baby Jeanne meant that Kathleen would never tour America with the Tiller Girls. For Anatole Moreau's extended family, most of them still living in villages in the ancient central province of the Bourbonnais, a Moreau baby by a Protestant dancer was a very different kind of disaster. Anatole, Kathleen and Jeanne lived in both Paris and Vichy, before splitting up after a bankruptcy in Vichy landed them in a dreadful existence in two rooms next to a Parisian brothel near Pigalle. Kathleen came home to her mother and father in Brighton with Jeanne and a new-born baby Michelle. Jeanne joined the Brownies in Sussex.

It was only the war that took them back to France. On January 1, 1940, Jeanne and her mother boarded the Newhaven - Dieppe ferry, pushing Michelle in a pram and returning to Paris five months before the German invasion.

In the late summer of 1940, with Anatole Moreau trapped in the unoccupied part of France, Kathleen, Jeanne and the baby were turned back by the Germans in a column of Parisian refugees intercepted at Orléans. Kathleen was ordered as a British subject to report daily to the Gestapo in Paris.

At 15, in German-occupied Paris, Jeanne skipped a Latin class for a secret visit to Jean Anouilh's Antigone, a play about the rebellious daughter and sister of Oedipus:
It was the coup de foudre. I was Paul on the way to Damascus. I knew at once I wanted to be an actress.
Her father hit her across the face when she told him what was going to happen:
My father was drunk and the first word that came out of his mouth was putain - whore. To be an actress was to be a whore.
The 'greatest actress in the world' is now buried in the cemetery at Montmartre, not far from the site of her father's bistro and very close to the grave of her lover François Truffaut.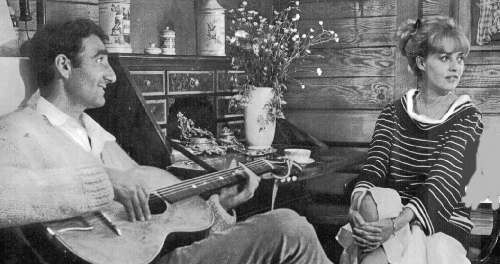 For Jules et Jim Truffaut persuaded Serge Rezvani, a close friend of Jeanne's first husband and a painter who was neither a professional actor nor a guitarist, to accompany Moreau as she sang a private song that Rezvani had written about her years before. The second verse of Le Tourbillon de la Vie [The Whirlwind of Life] goes:

Elle avait des yeux, des yeux d'opale

Qui m'fascinaient, qui m'fascinaient

Y avait l'ovale d'son visage pâle

De femme fatale qui m'fut fatal

De femme fatale qui m'fut fatal

A tourbillon proved fatal for Windswept on August 1, 2003. She was flying the Italian flag in the Aeolian volcanic islands north of Sicily, where the unpredictable local weather was recently described by underwater archaeologists investigating a 2,200 year old Roman shipwreck known as Panarea III:
The archipelago is named after Aeolus, the mythological Greek god of the wind, and perhaps for good reason. The winds, together with strong currents, unpredictable weather conditions, make the islands one of the most dangerous places for seafarers to navigate.
After surviving wartime government ownership and seven different British owners between 1947 and 1978 Windswept had been restored as a major prize-winning project by the Tecnomar yard on the banks of the River Tiber at Fiumcino near Rome.
Disaster struck five months after presentation of a 2003 restoration of the year trophy to the Italian craftsmen for their work on Windswept.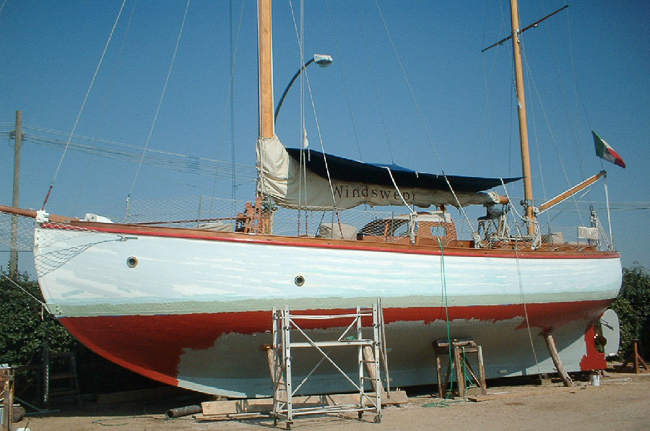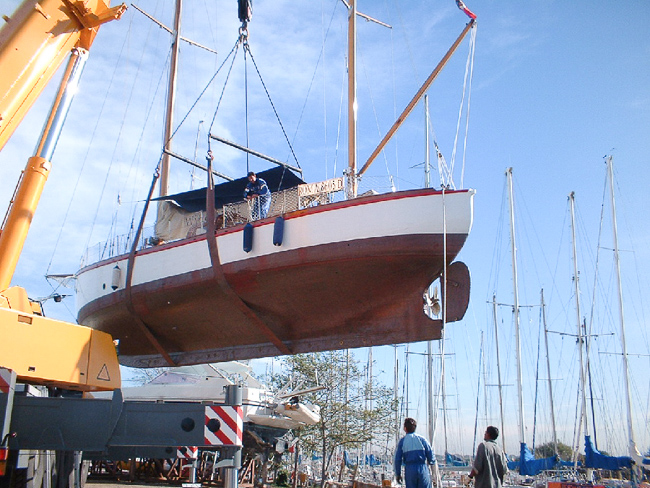 Emiliano Parenti of Tecnomar, who can be seen riding the bowsprit of Windswept in the top sea trials picture, said, "She had been completely restored. I took her on the sea trial and the owners were delighted.

"On August 1, she was caught in a fierce thunderstorm off Panerea. She just exploded on the rocks of the island. It is very sad because she was a magnificent boat."

Built: 1936 by David Hillyard at Littlehampton, England

Wrecked: August 1, 2003, Island of Panerea, Tyrrhenian Sea.

Length overall: 54ft 0in [16.45m]

Length waterline: 47ft 0in [14.32m]

Beam: 13ft 3in [4.03m]

Draught: 5ft 9in [1.75m]

31 tons Thames Measurement

Lloyd's Register: 165291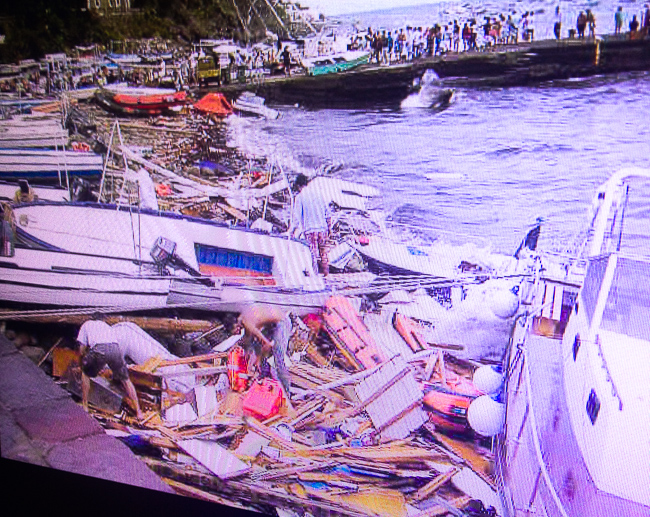 By Andrew Rosthorn, with thanks to

Emiliano Parenti of Tecnomar

La Moreau: a biography of Jeanne Moreau by Marianne Gray, New York NY 1996.
Yacht Transport News 2017
FROM GRAVEYARD TO LAST CHANCE SALOON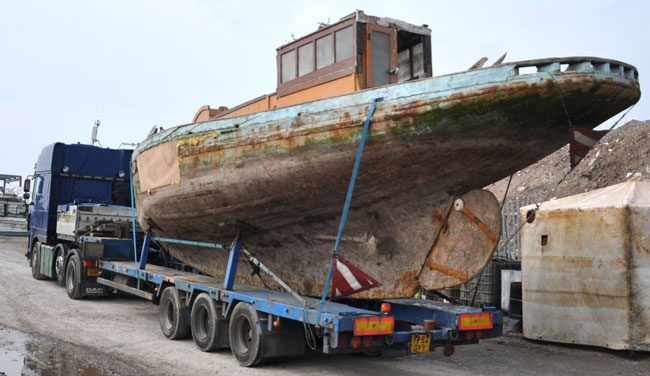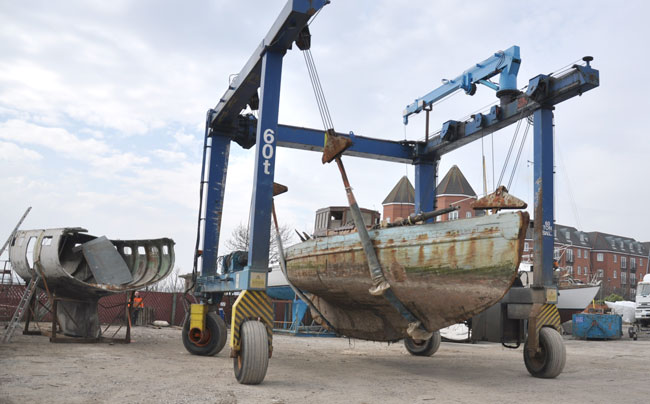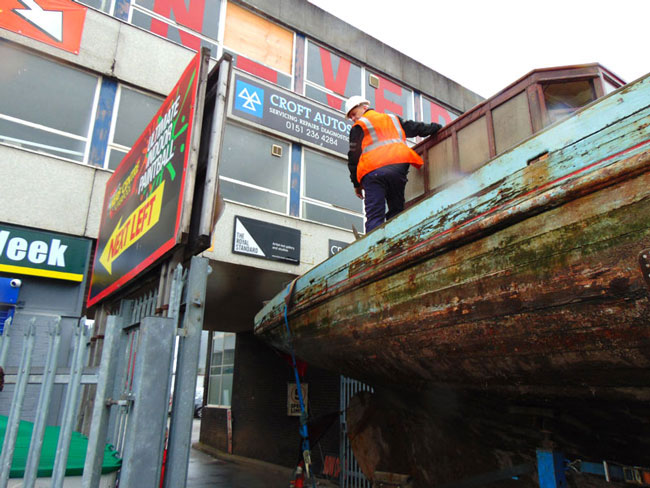 Liverpool, June 29, 2017: Two months after she was plucked from a maritime graveyard on the banks of the River Mersey, the 106 year old nobby MYSTERY II landed at the doors of the carpentry workshops of the Liverpool Community College.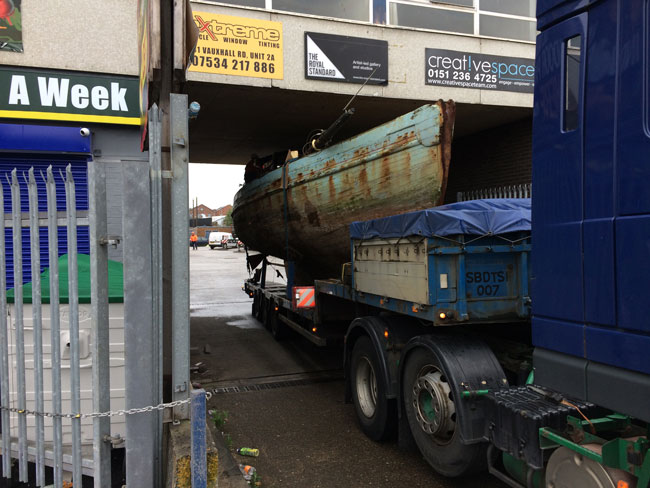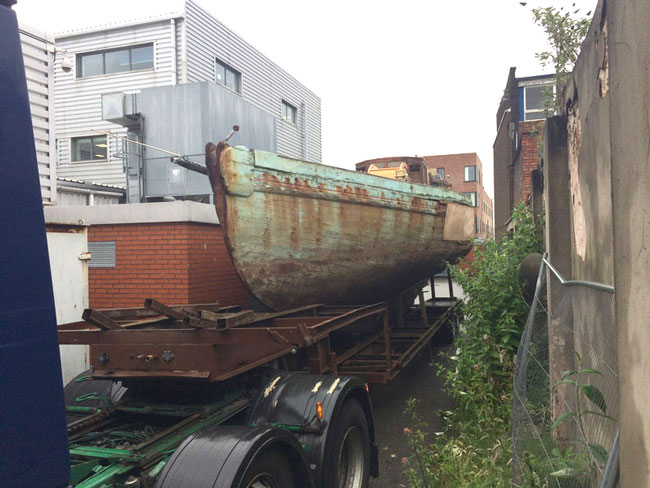 The last-chance refit, planned and funded by the local Nobby Owners Association, demanded two road trailers and a 50T mobile crane, in an operation that took the 12.6m x 3.65m nobby inches under the first floor of an office block in Vauxhall Road, Liverpool, then up and over, in slings, to clear a 3-metre brick wall and avoid the 3.5m steel gateway that restricts access to the college workshops.

Built by James Armour at Fleetwood in 1911 for Frank Hughes of Egremont, Wallasey, the gaff-rigged trawler Mystery II won the Magazines Sailing Club Regatta in her very first summer. Seven decades later, after two world wars and a hard life fishing from Conwy in North Wales, she was still fast enough to come second in the 1990 Liverpool Nobby race, using a suit of borrowed sails.

Moored for years as the mysterious LL59 in the tideway near the Tranmere Oil Terminal, she was well-known to thousands of seafarers. Norval "Spike" Brown owned her for fifty years. The Liverpool insurance broker Tom Middlebrook heard that she was in trouble early this year. The 41ft 6in nobby had been laid up near Riverbank Road in Bromborough, facing demolition.

Days later the Nobby Owners Association, formed in 1987 to "encourage the restoration of traditional Morecambe Bay prawners and Lancashire nobbies" organised a rescue by Sealand Boat Deliveries, to haul her into the Bluepoint yard at Liverpool while the association arranged an overhaul by craftsmen and apprentices at the community college in Vauxhall Road. By mid-summer, the association ordered Sealand and a crack lifting team from Roadcraft Crane Hire to hoist the 11.5 tonne hull from a car park, over a wall to land her on a second slave boat trailer for rolling for restoration at the end of a narrow alleyway at the side of the college.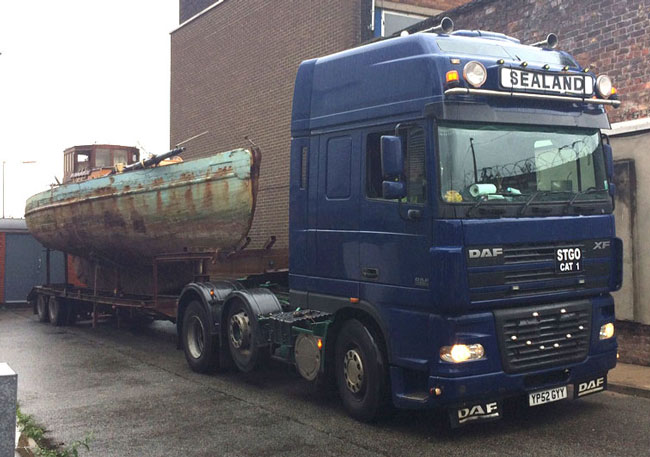 ARCTIC WHALE WATCHERS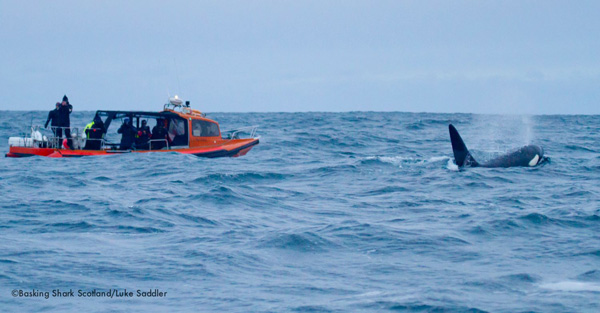 Norwegian Sea, January 2017: After a mid-winter delivery from the West of Scotland to the North of Norway, the diveboat Cearban keeps station with a killer whale off Krøttøya, northernmost inhabited island of the 365 islets in the Andfjorden.

Four weeks earlier on December 4, the crew of the specialised Redbay Stormforce 9.1 boat had been at sea off the Inner Hebrides filming basking sharks. Team leaders Shane Wasik and Luke Saddler have filmed both sharks and dolphins from tiny video cameras mounted on radio-controlled drones. The basking shark Cetorhinus maximus is the world's second-largest fish.Svartfoss at Grimsby, bound for a rendezvous in the Arctic with the killer whale, Orcinus orca, largest of the world's oceanic dolphins.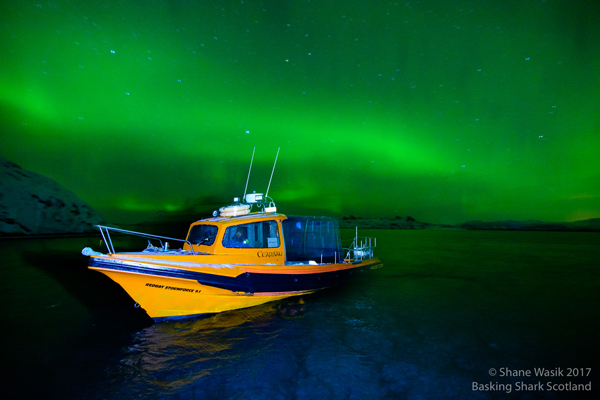 Cearban [Scottish Gaelic for basking shark] berthed by the light of the aurora borealis at her base at the remarkable Hotell Valhall the shore base for the whale watchers that is named after the god Odin's great hall in the Norse sagas.




CLICK image for transport story



Yacht Transport News 2016

PULLING UP BEATTOCK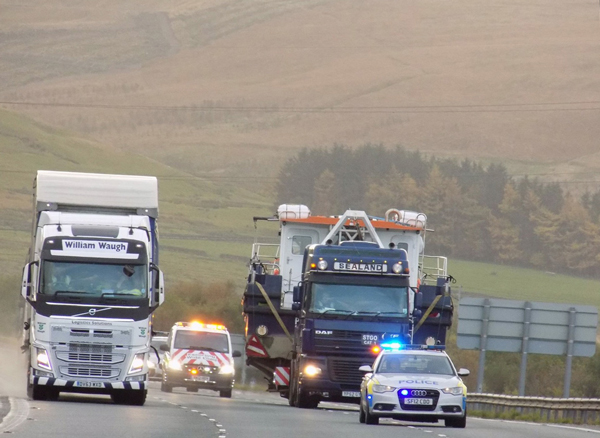 Northbound A74[M], October 28, 2016: Driver Mark Chapman tackles the famous Night Mail climb, hauling the survey catamaran PROTEUS, 4.95m wide, from Grimsby to Ardrossan.

The twin hulls of the 23-tonne Bibby HydroMap coastal survey vessel ride wide on high-tensile steel plates chained across a low 300mm deck height steerable trailer, keeping overall height under motorway bridge safe clearance on the 3-day haul over the three North British summits, M62 Windy Hill, M6 Shap and Beattock on the wide load route from the North Sea to the Firth of Clyde.

PROTEUS is named after an early Greek god of rivers, seas and oceans and works on advanced offshore geophysical surveys with side scan sonar, sub-bottom profilers and marine magnetometers. With a draught of only 1.0 metre she can operate in shallow seas up to 60 miles from safe havens.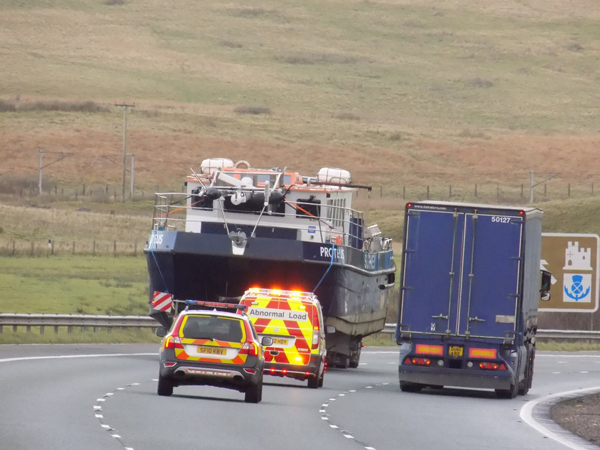 CLICK image for more Thomas Wilson action pictures
A slick move from Antigua to Wicklow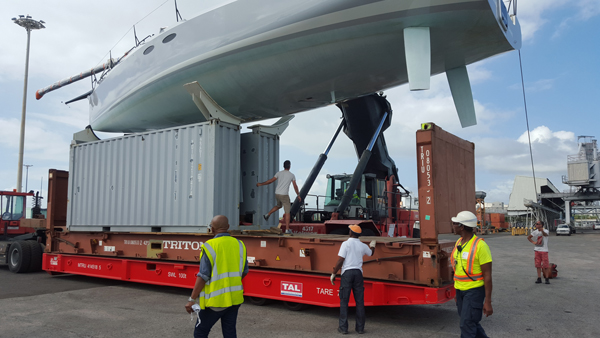 After winning their class in the RORC Caribbean 600 race at dawn in Antigua on February 25, the crew of the French IRC 43ft racer TEASING MACHINE sailed for the USA on a mission to race in the Volvo Round Ireland Race, starting in Wicklow Bay at 13:00 on June 18.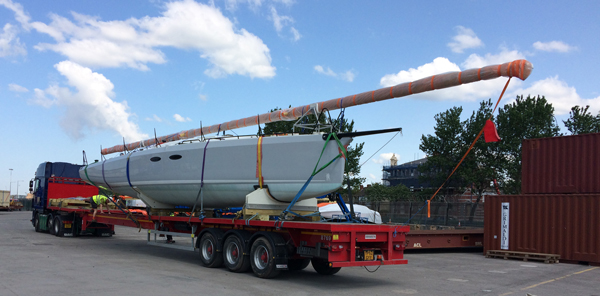 Liverpool, May 23: Arriving from Norfolk, Virginia, aboard the Ro-Ro container carrier Atlantic Conveyor, the formidable Archambault A13, a new design from Joubert and Nivelt, was hauled through the heart of the maritime city, with her keel detached and her high modulus Axxon composite carbon mast stepped, to the Bluepoint yard on Merseyside.

In an epic 2015 aboard TEASING MACHINE, the French oil trader Eric de Turckheim had won his class at Cowes Week, taken the Channel Race outright and finished second overall in the Rolex Fastnet Race. But ever since he went offshore racing at the age of 18, he had dreamed of competing in the Sydney - Hobart Race.

To make this happen, the racing division of Peters & May in Southampton shipped TEASING MACHINE from France to Sydney by container ship in time for the Boxing Day start of the notorious heavy weather race across the Bass Strait.

Denied overall victory only by light airs on the very last 12 miles up the Derwent River from Iron Pot to Castray Esplanade, the TEASING MACHINE team took their class, finished 11th overall and delighted their skipper.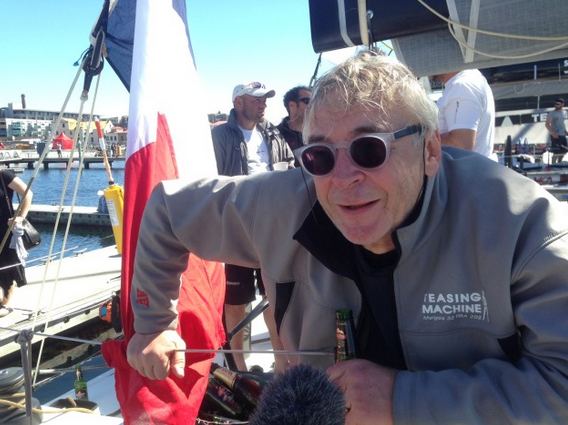 At Constitution Quay in Tasmania, Eric de Turckheim told the Rolex Sydney-Hobart race reporter Bruce Montgomery:
We went out to sea. We saw it coming on. It was very brutal and then that was it. We just went down south as much as we could. We had to deal with the next transition.

Then ten miles from the finish, you are stuck with no wind at all for four or five hours. You know what the result is. There is no question.

But it is a great race. For me it was always a dream when I was a kid, offshore racing when I was eighteen. To be here is such a great pleasure.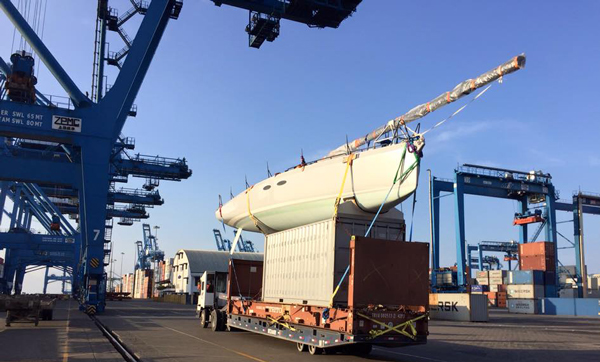 De Turckheim's improbable dream demanded a swift return to Sydney followed by another bold containership move planned by Craig Stanbury and the racing division in Southampton. Using ingenious cradling arrangements incorporating the French team's own ISO shipping container, the A13 was shipped to Panama, relaunched and sailed to English Harbour in Antigua by a skeleton crew in time for the February 22 start of the RORC 600 race around the islands of the West Indies.

Once again winning IRC One in only 68 hours elapsed time and claiming third overall for the race, de Turckheim was on hand to describe his experiences and the differences between racing in the Bass Strait and competing in the Caribbean:
It was a big trip to get the boat here from Australia, including sailing 1,500 miles upwind from Panama, but we knew we had the potential to do well in this race. This is a great race and I will always remember the leg from La Desirade to Barbuda, averaging 15 knots for 140 miles with full sail and warm water cascading down the deck; it couldn't be better. We like to win but not at any cost. The ambience on board is fantastic and we were often toasting our performance with a small glass of red wine.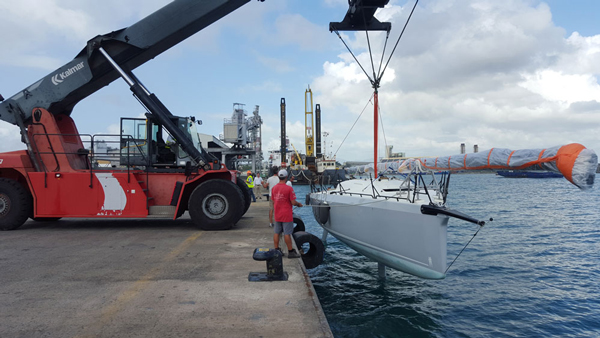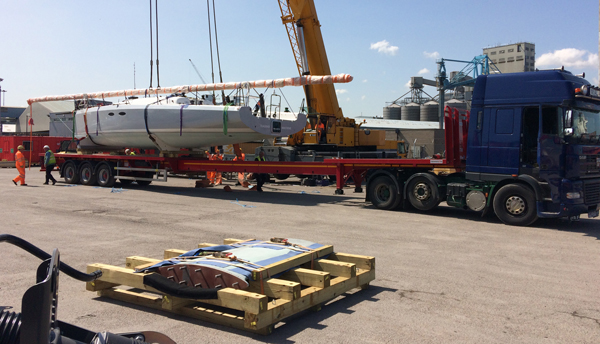 Christian Tiggeler, a key man in de Turckheim's crew, was in the heavy lift area of the Royal Seaforth Container Terminal in Bootle to oversee transhipping, refitting and refairing the keel and re-rigging by the Bluepoint team, led by Andy Farrell and Tim Hare, at their yard on South Ferry Quay.

TEASING MACHINE sailed down the Mersey in June, bound for Wicklow as one of 63 starters in a memorable Volvo Round Ireland Race, delighting the veteran Irish yachting reporter W.M. Nixon by making 'a proper job of tide-dodging inside the Wexford banks'. Nixon described an epic 704-mile battle between the three MOD trimarans in the race, won in a record 38 hours, 37 minutes and 7 seconds by the Sultanate of Oman's flagship Musandam-Oman Sail:

Everything was gettingly nail-bitingly tense, and south of Greystones, Phaedo and Concise were slowing markedly, so Musandam came up from astern and took a bit of an offing, finding better breeze only a short distance offshore which carried her right to the line at Wicklow to finish ahead and created an absurd new record of 1 day 14 hours and 37 minutes, with Phaedo 3 six minutes astern, and Concise, which had so gallantly led for most of the race, coming in another minute later.

Follow that, as they say, but somehow Rambler 88 managed to outdo the drama, as she did the final stage from Rathlin Island to Wicklow in just part of the one span of daylight on Monday. But by the time she came calling the wind had veered and thus she was able to lay the whole way down the Irish Sea to the finish, and was travelling at full chat as she came into the line.
The craft and guile behind the crew of TEASING MACHINE again delighted Mr Nixon at afloat.ie :
Eric de Turckheim's Teasing Machine was both consistent and brilliant, and on Wednesday tacking down the southern part of the North Channel, she was neck and neck with Ross Hobson's two-handed canting-keeled Open 50 Pegasus of Northumberland.

But while Pegasus elected to continue on starboard right over to the Isle of Man as can be seen on the tracker plan, Teasing Machine's crew took a completely different choice, they went right to the southwest, and then tacked to curve across Dundalk Bay close past Clogher Head until the two boats met again at Rockabill, following which they paced together down to Wicklow where a bit of slick tacking saw Teasing Machine finish ahead, but by this time it was akin to bear-baiting, as the crew of the big Pegasus were boggle-eyed with exhaustion.

Teasing Machine's time put her behind Rambler 88 on corrected, so the crazy dream was becoming reality, but that is in no way to detract from the de Turckheim crew's performance, it was a superb playing of the hand they'd been dealt. They were comfortably ahead of Class 1 and 2, and soon out of sight on the determined little battlers of Classes 3 and 4, who until then had been snapping at their heels.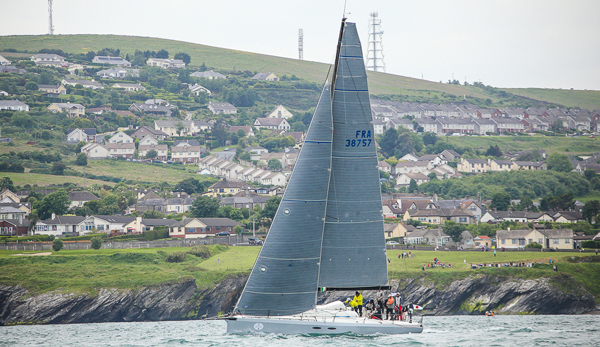 Pictures thanks to Peters & May, Bruce Montgomery, Sealand Boat Deliveries and Afloat.ie
From Zürisee to the Da-ow-a-ga





Eight thousand miles from an alpine lake in Switzerland to an alpine lake in the USA



Carnelian Bay, California, May 14: From her birthplace in Canton Schwyz ENCHANTED has arrived at her new mooring on Lake Tahoe, 1897 metres above sea level.

The 10.3m Pedrazzini Special Runabout, largest in the current range, left the lakeside workshops of Claudio Pedrazzini at Bäch am Zürichsee on April 4, after final trials on the lake known in Swiss German as Zürisee.

The rare fruit of 4,000 man hours of work by 15 craftsmen and apprentices, led by the grandson of the founder of the 102-year old firm, was shrink-wrapped at Bäch am Zürichsee by Neil Joseph from Poole in England, for transport to Lake Tahoe, a vast mountain lake not discovered by Europeans until 1844 and then known to the Washoe tribe of native Americans as Da-ow-a-ga.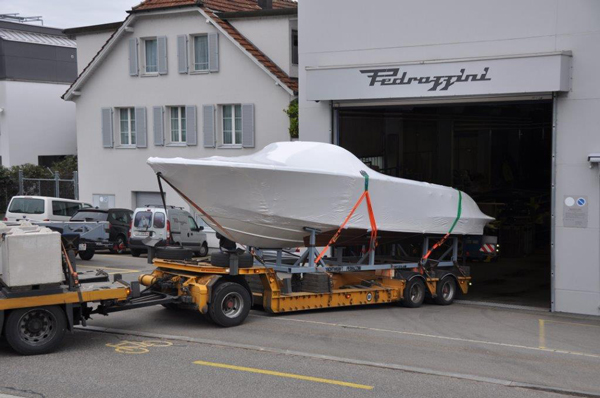 Transportbedrijf Van de Wetering BV delivered the mahogany masterpiece from Switzerland to Zeebrugge in Belgium for a deep sea voyage aboard the 61,328 GRT car carrier MV Toscana via the Panama Canal to Port Hueneme, from where Californian trucker Warren Moger hauled her 500 miles into the mountains of the Sierra Nevada, climbing 6,325 feet from sea level to the Sierra Boat Company at Carnelian Bay.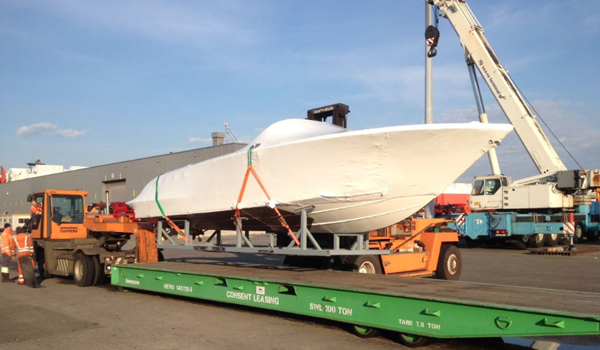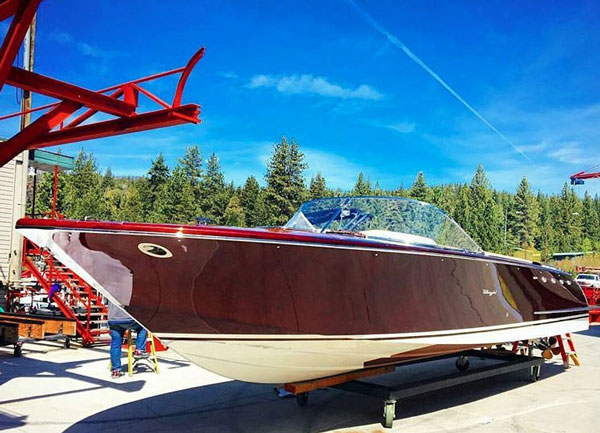 The Special Runabout, exhibited at boot Düsseldorf during the winter, is the second Pedrazzini to be acquired and shipped to Lake Tahoe by Sealand Boat Deliveries and Peters & May for her owner Jerry Kennelly who has a home at remote Incline Village on the Nevada side of the great lake.



FIRST OF THE NEW FAIRLINES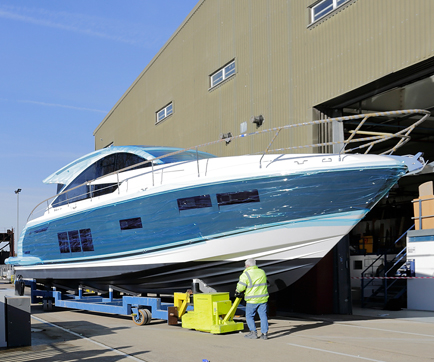 Oundle GB, March 3, 2016: Fairline Yachts have rolled out the first boat completed since Alexander Volov and Igor Glyanenkos re-formed the world famous firm six weeks ago.

The Targa 48 GT was destined for Bates Wharf, London agents for Fairline, after managers and workers at the new firm had first of all honoured contracts by completing all boats under construction when the old firm went into administration.

Russell Currie, the new managing director, said, "We are delighted that today has seen the first boat to roll off our production line since our purchase of Fairline Boats from administration at the end of January. We have been focusing on completing existing orders to ensure no customer of Fairline Yachts from anywhere in the world loses confidence in our ability to provide them with their new boat.

"As a result, we have experienced a surge in orders from our dealer network, for both stock and retail sold boats for this year and next. With a healthy forward order book, some outstanding future product designs, a skilled and passionate workforce, a committed dealer network and a loyal customer following, Fairline Yachts is on its way to getting back to where it belongs."

FAIRLINE SAVED AGAIN

Two Russians have bought Fairline for less than the price of a superyacht.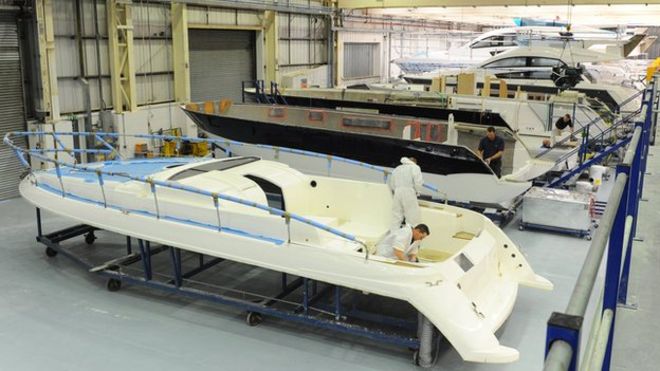 Oundle GB, January 26: Alexander Volov and Igor Glyanenkos were revealed as the new owners of the rescued business to be known as Fairline Yachts.

Russell Currie, manager of Fairline North Mallorca and former engineering director of Sunseeker International in Mallorca, is the new managing director and the Oundle factory will stay open and employing around 100 staff with a plan to build between 30 and 40 yachts this year.

The Corby works and the base at Ipswich marina will not re-open.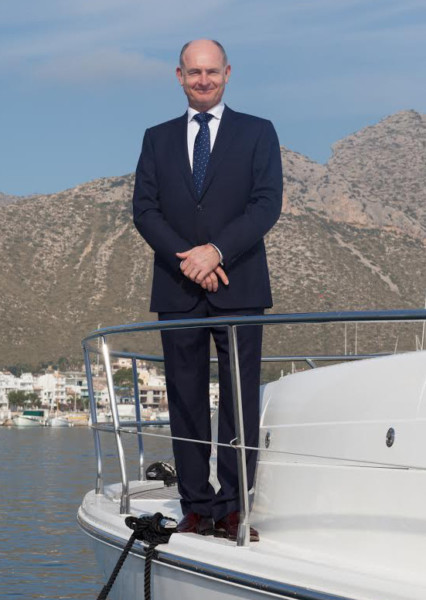 Russell Currie said
I am delighted to have been appointed Managing Director for Fairline Yachts. With the resources of the investors, coupled with the expert knowledge of the management team and our energy and passion for the brand, the structure is in place for a great future for Fairline Yachts. We will focus on creating high quality luxury motor yachts that boaters will want to own and dealers will want to sell.

As a sign of our commitment to Fairline Yachts' loyal customer base and dealer network, we will be completing all orders for boats received by Fairline Boats, including those that have not yet started being built as well as those that are already in production.
Alexander Volov and Igor Glyanenkos were described this week as British-based shareholders in the media technology business Megahertz and "passionate about boats."

Fairline went into administration just before Christmas, only months after being sold by Jon Moulton's private equity firm Better Capital to Wessex Bristol run by Ayiaz Ahmed, buyer of Fletcher Boats from SBS Ltd in June 2015. The Fairline Boats administrator is believed to have sold the firm for £4.5 million.

The firm was founded in 1963 by Jack Newington. After turning gravel pits on the River Nene into Oundle Marina he launched his first 5.8m grp river cruiser in 1967. When Jack's son Sam retired in 1996 the company was running a network of 35 dealers in North America. In 1991 the Fairline Targa 38 was named European Powerboat of the Year.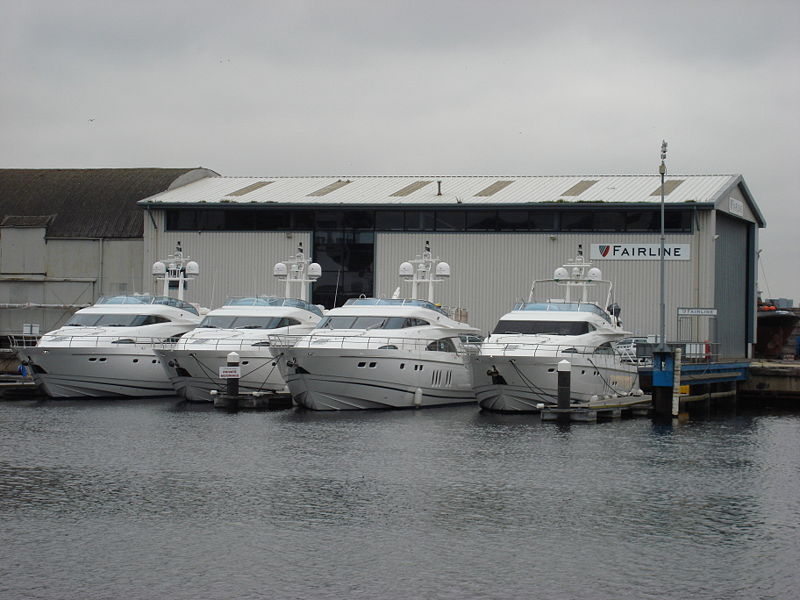 Fairline Squadrons at the Ipswich testing base in 2007. Oxyman, Creative Commons


Yacht Transport News 2015

TO THE LIMIT AT GLASSON DOCK

Moving a 55ft blue water ketch from the Lune to the Humber.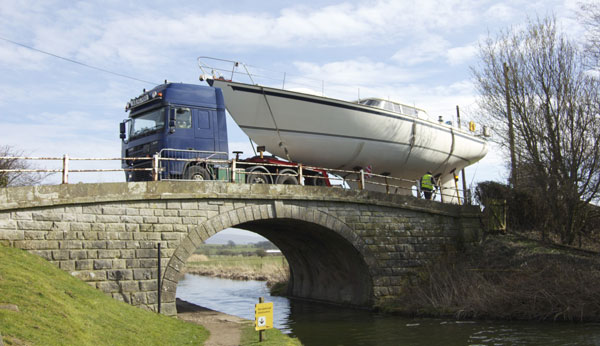 Glasson Dock GB, March 23: Ever since the navvies linked the Lancaster Canal with the Irish Sea at Glasson Dock in 1826, this fine bridge has been testing carters and hauliers.

SHEARMYSTE, a 26 tonne, 8-foot draught, aluminium alloy ketch, built by Thrislington of Newton Aycliffe in 1984 to a Laurent Giles design, was bound for Hull when a team from Sealand Boat Deliveries and Davlyn Marine loaded her at the Glasson Basin yard to within two inches of the safe motorway bridge height.

But with a ground clearance also measured in inches, would the super-low trailer clear the canal bridge before crossing a second humped-back stone bridge over the River Conder?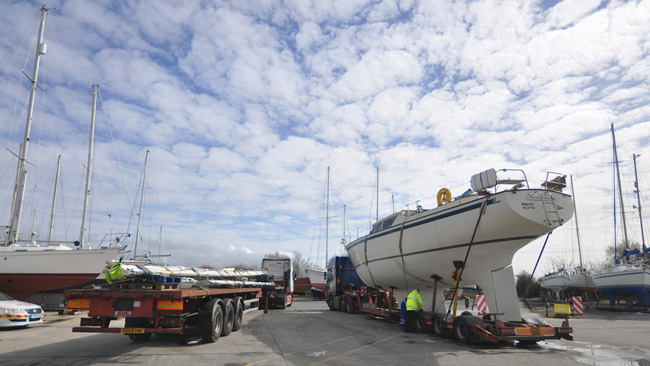 After successful test runs with empty extended trailers, a moment of truth approached when the 16.7m hull and the 22.86m long main mast were loaded to separate lorries. During loading, one of the strongest tides of the year had silently inundated the road that crosses the River Conder estuary.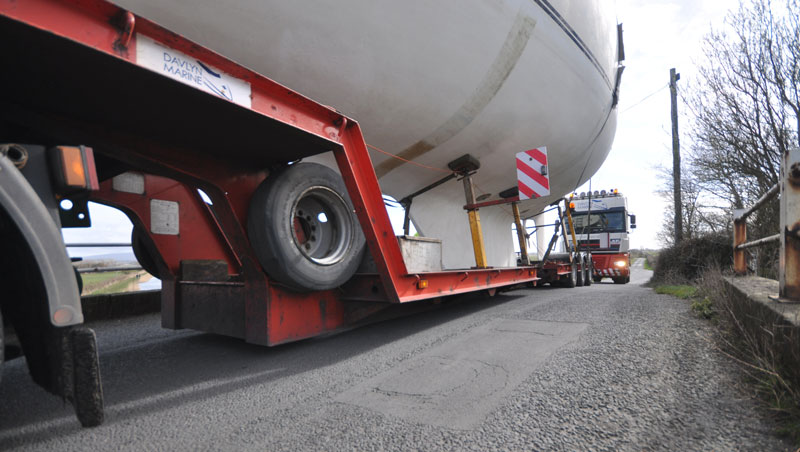 Despite the test run, it was no surprise when the super-low trailer grounded on the 1826 bridge. It took a dozen steel rollers under the trailer and 30 minutes 'planking up' to clear the first bridge. This triumph preceded a long tidal wade, two tight turns and a crossing of the second bridge which has defeated many low-loaders in the last fifty years.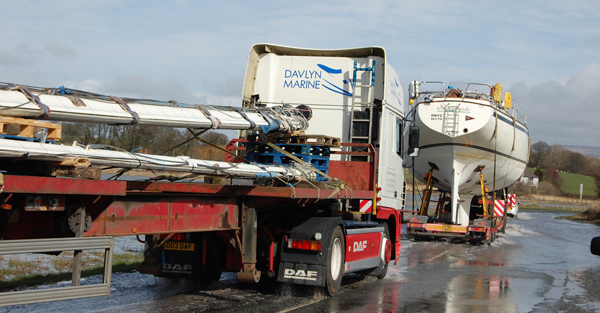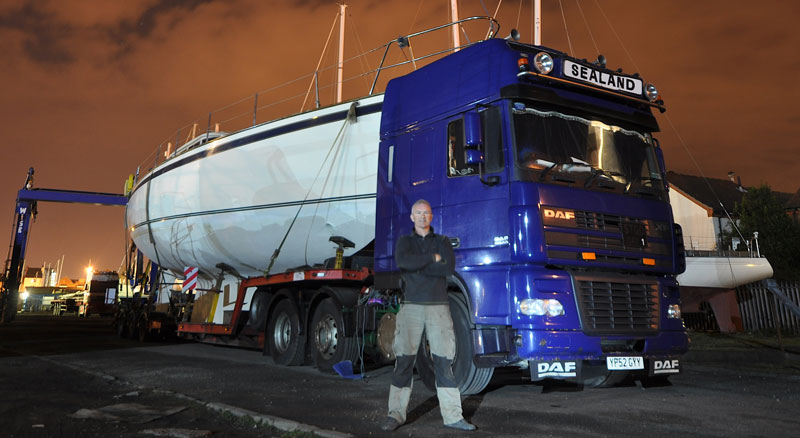 Re-launched at Hull Marina 24 hours after lifting at Glasson Basin Marina.

CLASSIC RESCUE FROM WINTER IN THE FIRTH OF FORTH

A fine 1907 Mylne sloop has been rescued for restoration.






Burntisland GB, November 4, 2014: TRESTA, built by James Adam & Sons at the Cove Yard Docking Slip, Gourock, 107 years ago, has been towed ten miles by RIB from the isolated harbour of Kinghorn, where she was found afloat by shipwright Steve Smith. Her picture appeared on the Scottish-based findafishingboat.com website.
The next stage of the rescue plan involved the Briggs Marine multicat FORTH BOXER bringing the old girl alongside a mobile crane for road delivery to Steve's Lancashire workshop by Sealand Boat Deliveries.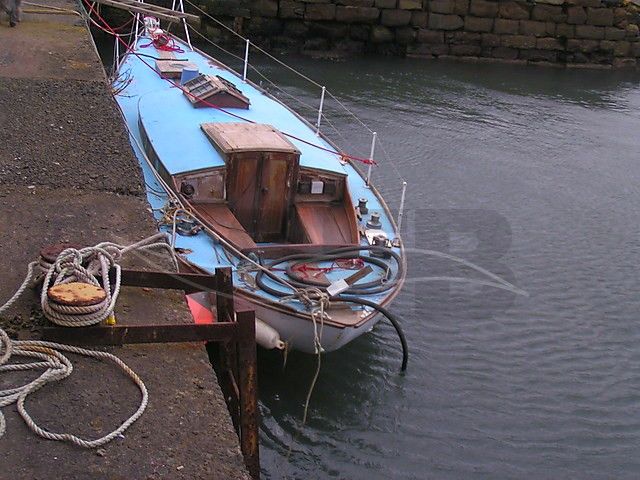 The great Alfred Mylne I, 1872 - 1951, drew the lines of the 9.84m [33ft 2in] sloop at his office in Hope Street, Glasgow, just after he had been invited to an international meeting at the Langham Hotel in London, where yachtsmen, designers and engineers began to formulate the International Rule that revolutionised yacht racing.

In 1968, when the elegant double-ender was owned and raced by Dr G. Henderson from Garelochead, she came third out of 34 starters in the final leg of the Clyde Cruising Club Tobermory Race.

Her new owner does not yet know how her long career in Clyde racing led to the exposed mooring by the quay in Kinghorn, Fife, a harbour inaccessible to lorries on a coast 'much encumbered with rocks' near the cliffs where King Alexander III of Scotland fell to his death after his horse stumbled in 1286.

The 6500kg 1.88m [6ft 2in] draught hull has now been craned into a workshop cradle in a yard near the River Douglas at Newborough, Lancashire.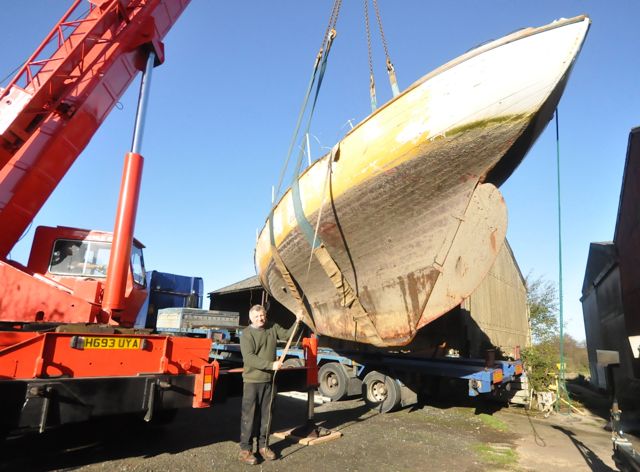 Steve Smith is still remembered on the island of Islay for his sensational 2010 arrival in Port Askaig at the helm of the restored RNLI lifeboat FRANCIS W. WOTHERSPOON. The 47-foot Watson had been stationed in Islay from 1959 to 1970. She was pensioned-off after saving sixty lives during her service on the island. Steve discovered her afloat in the harbour in Douglas, Isle of Man, but declared 'a danger to shipping'. The refit involved a complete workshop overhaul of her twin Gardner 5-cylinder diesels and gearboxes.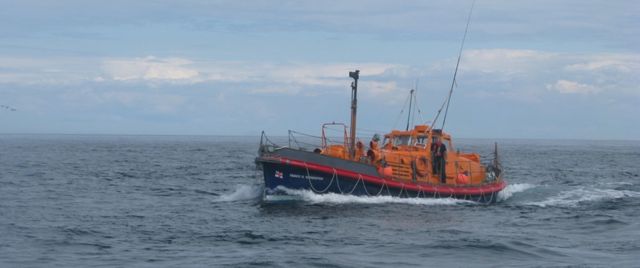 A VERY TIGHT JOB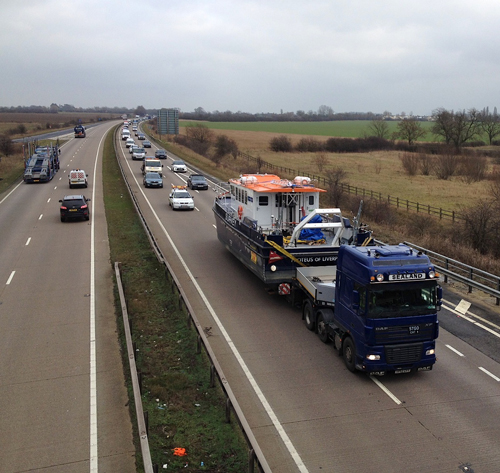 Grimsby GB, January 29: PROTEUS OF LIVERPOOL, the newest Osiris Projects coastal survey vessel took to the motorways for the very first time.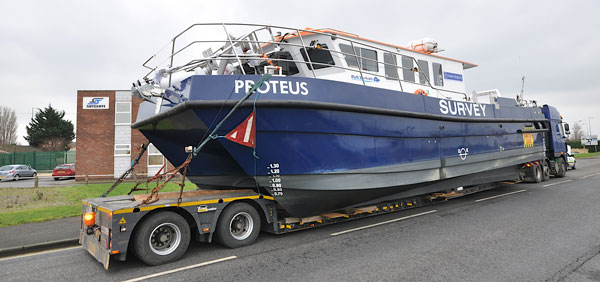 Despite being hard up against the British motorway loading gauge, the Merseyside hydrographic research firm, since re-branded as Bibby HydroMap, decided to use road transport for re-positioning PROTEUS from sub-sea surveys in the North Sea to new tasks off Oban in the West of Scotland. Launched by Blyth Workcats at Canvey Island, after a short out-of-gauge road journey in 2013, the 14.0m catamaran measures 14.0m x 4.96m beam, with an overall height, after all masts and gear are lowered, of 4.3m. Sealand Boat Deliveries undertook the job using a fully-stretched German-built Doll extending trailer, offering a deck height only 300mm above the road surface. The catamaran keel centres were wider than the trailer deck, so Sealand cut three high-tensile steel plates to carry the load, losing only a few inches of deck height. Drivers Mark Chapman and Tony Curry pulled out of Grimsby docks with a running height of only 4.87m [16ft 0in], just three inches under their target.





Bound for Scotland on M180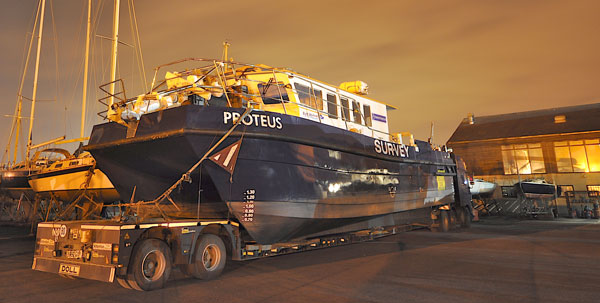 The rig rolled into Troon Yacht Haven 34 hours out of Grimsby involving a night-time Police Scotland escort to avoid road works near Kilmarnock. PROTEUS came close to exceeding the lifting envelope of the 50 ton travel hoist at Troon. Lifting for the launch demanded removal of the trailer neck on day four of the operation. Skipper Daniel Jarvis and his survey crew boarded PROTEUS on day four to prepare, in the tradition of the god Proteus for the next stage of their voyage to Oban via the Crinan Canal.

Proteus, a son of Poseidon, was an early Greek god of rivers, seas and oceans, Homer's 'Old Man of the Sea', who would change his shape to avoid foretelling the future, eventually giving us the word 'protean' for versatility, flexibility and adaptability.



The crew left their ship's automatic identification system switched on during the cross-country move, allowing their managers the rare sight on office laptops of a maritime AIS-equipped vessel clearing Beattock Summit at a steady 45 miles per hour.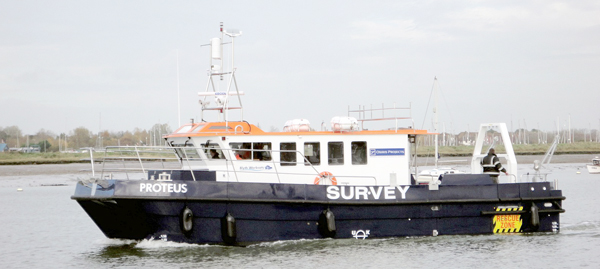 MV Proteus works up to 60 miles from safe havens under MCA Category 2 with a maximum speed of 24 knots and a remarkably shallow draught of 1.0m for inshore operations. The catamaran design ensures exceptional manoeuvrability at low and high speed with a low drag profile to save fuel.

High grade positioning systems include an Inertial Navigation System (INS) and acoustic Ultra Short Baseline (USBL) acoustic positioning system for towfish tracking. The large aft deck features a moon pool fitted with a hydraulic retractable hydrodynamic gondola designed to house a high grade multibeam echo sounder systems. PROTEUS is permanently mobilised with an AGO-CSW7 electric sonar winch which when combined with the hydraulic A-Frame, allows for the safe launch and recovery of geophysical equipment including side scan sonar, sub bottom profilers and marine magnetometers. A hydraulic lifting winch enables oceanographic and benthic survey equipment to be launched and recovered from the vessel including small inspection class ROV/drop down camera, various grab sampling equipment and benthic trawls.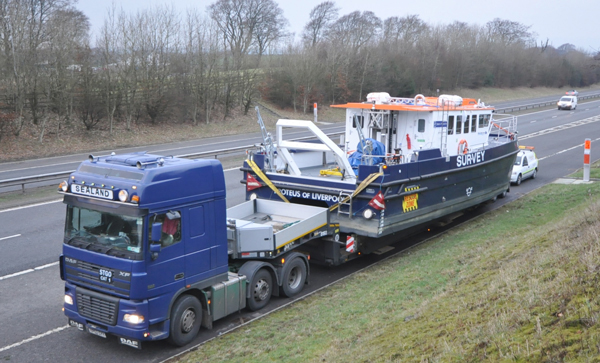 CLICK for PROTEUS catamaran delivery procedure pictures.




CLICK for PROTEUS specification.
ANOTHER TIGHT JOB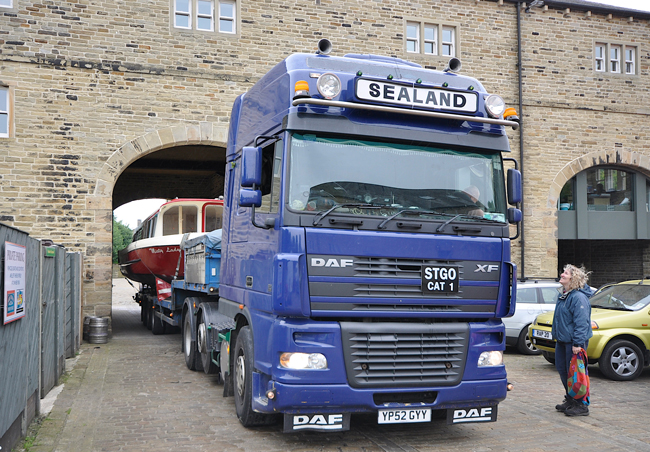 Sowerby Bridge, West Yorkshire GB: The oldest of the marvellous canal warehouses at the Sowerby Bridge Basin was built in 1770, so it is hardly surprising that road access is tight for the lorries of today.

This is as good as it gets at this key Pennine canal base, where the Calder and Hebble Navigation of 1759 meets the transpennine Rochdale Canal of 1804. MISTY LADY, formerly FREE SPIRIT, a 10.36m x 3.65m wide F.B. Wilds Bermuda 34 Broads cruiser had been re-fitting in a tight location in Lancashire before Sealand Boat Deliveries were called in to bring her to the Calder and Hebble. After double-lifting over narrow steel gates at Bury, the drivers were faced by the tight archway at Sowerby Bridge, the only road access point to the mobile crane launching pad. Her owners appear pleased.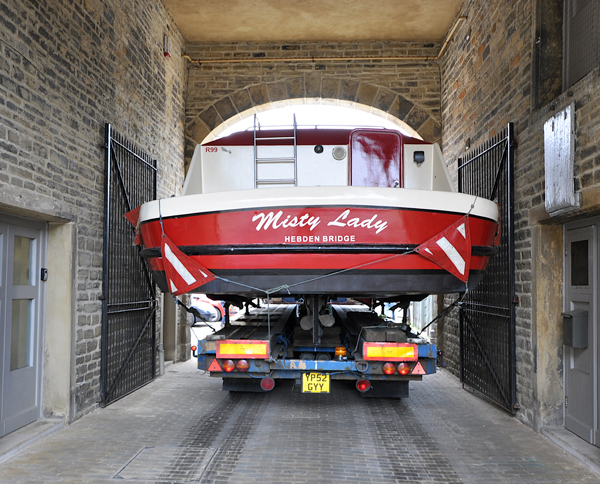 MANHATTAN 63 TO PSP SOUTHAMPTON SHOW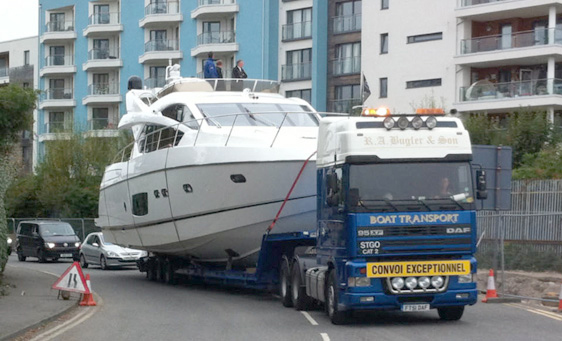 Southampton GB, September 2013: Making their very short journey from Dock Gate 4 to a keynote position at the entrance to the 2013 PSP Southampton Boat Show, the Sunseeker personnel manning the flybridge of their new Manhattan 63 were 8 metres above the road as driver Chris Bugler eased their 35 tonne package of innovation, luxury and performance into her show position, displayed on the trailer outside the Grand Harbour Hotel in West Quay Road.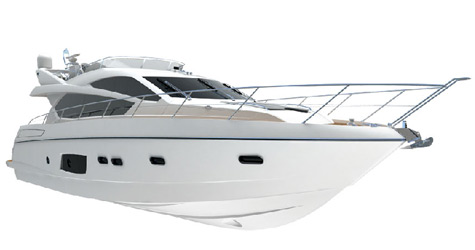 The new 21-metre Manhattan 63 offers a cruising speed and range of 23 knots over 270 nautical miles driven by twin fixed-pitch propellers or IPS Pod drive units, capable of 33 knots.



NEW LIFE FOR A DERBY WINNER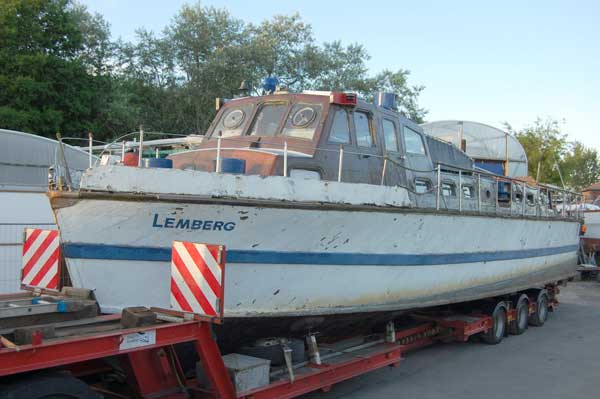 Preston GB, June 19: 71 years after she was launched for wartime service in West Africa at "Sammy" White's yard in East Cowes, LEMBERG has been road-hauled from the River Thames to the River Ribble in Lancashire.

An outer layer of teak, specified for tropical service on her double-diagonal construction, granted this 48-foot High Speed Target Tower a long life. But few in 1942 would have forecast a sixty year career for a 12-tonne "Derby Winner Class" shipped by the Royal Army Service Corps to the supply port of Freetown in the year of the battle of El Alamein. Superbly preserved after half a lifetime on the River Thames and 59 years in the hands of one family, she is now destined for a winter berth under new ownership on the River Douglas in Lancashire.

In 1947 Mr Roger Miller bought her from the military small craft disposals yard at Woolwich. His family retained her forward wheelhouse and most of her features. Fitting a pair of 6.354 Perkins diesels in place of her trio of revolutionary wartime Perkins S6Ms reduced her top speed to 12 knots but allowed the family to walk through the engine room from the forward cabin to the saloon.

Each of her 21 sisters was built on the Isle of Wight by J. Samuel White or Groves & Gutteridge and carried the name of a racehorse winner of the Epsom Derby. Lemberg was a bay stallion born in 1907. He won the race in 1910 and lived a long life at stud until he died in 1928. His owner was just as lucky. Alfred Cox mysteriously campaigned a string of famous racehorses under the assumed name of "Mr Fairie". As a young man in Australia he won a share in a silver mine playing poker with Georgie McCulloch the mastermind behind the Broken Hill Mining Company, now BHP Billiton.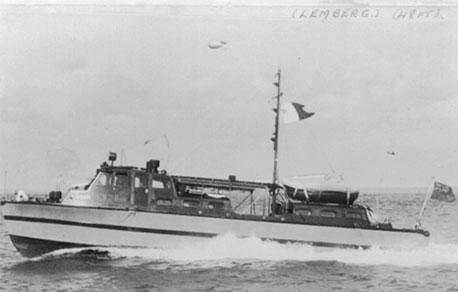 LEMBERG, delivered to the RASC in 1942 [RCT Museum].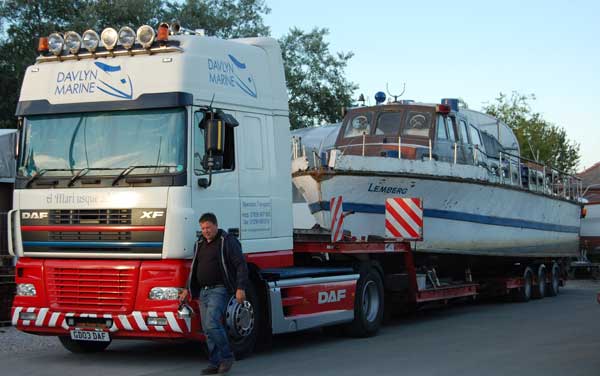 Driver Lyndon Harding fills his kettle at Preston Marina after the haul from Shepperton Marina.
J/111: NEW YEAR MERSEY ARRIVAL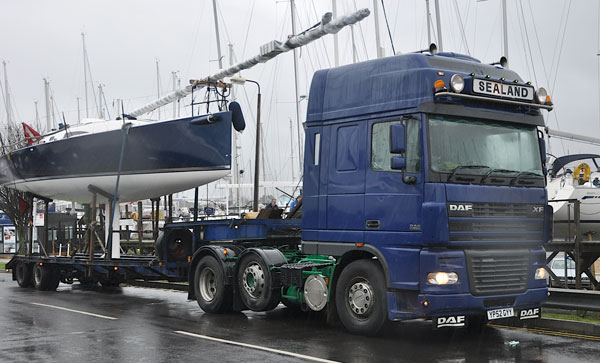 Liverpool GB, January 2: The first of the new J/111 offshore racer-cruisers to reach the Mersey, Captain Guy Cowper's JEZEBEL, arrived at the Bluepoint boatyard for the new year.

Barely eighteen months after the first of these strict one-design 36-footers raced during Block Island Week in the USA, sixty J/111s have been built in France and the USA and delivered to ten countries. Ten raced together at La Trinité-sur-Mer in Brittany in the summer of 2012. In a famous last-minute performance in 2011, a brand new French-built J/111 called SHMOKING JOE arrived by lorry in Hamble only 24 hours before the start of the 2011 Round Island Race. Phil Thomas and Duncan McDonald immediately raced her to win the IRC1 and IRC 1A divisions and finish sixth of the 400 competing IRC boats in the big 50-mile race.

Sealand Boat Deliveries delivered JEZEBEL, complete with a 16.67m mast constructed by Hall Spars in a new carbon nano-tube material called Arovex. To lower her centre of gravity and deliver a boat with no more than 2.18m draught, the Johnstone brothers of J-Boats designed a hollow fabricated stainless steel fin with a flat-sided lead bulb. J/111s can accelerate to windward at over 7 knots and plane downwind at 17 knots.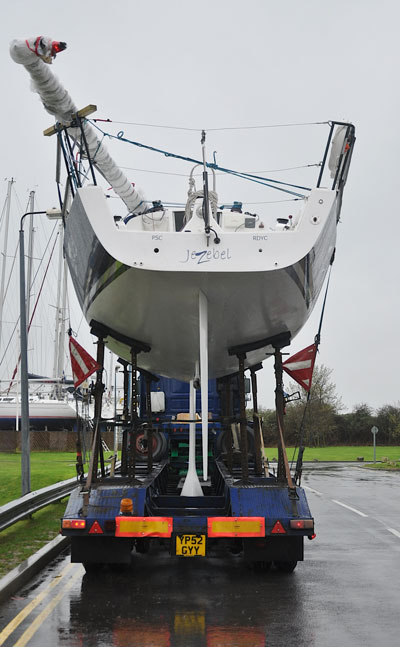 The J/111 is known for her narrow waterline beam and her open transom.

FINLAND TO VALENCIA ON HER BEAM ENDS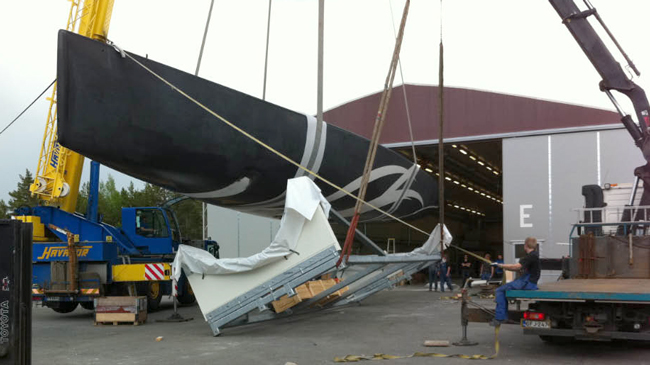 Bosund SF, June 2012: Baltic Yachts tilted the pioneering Baltic 72 Grand Prix hull on her side to reduce her beam from 6.0m to 5.0m for road delivery to Valencia for Alessandro Rombelli, the 2011 winner of the Melges 20 Gold Cup Championship and challenger for the 2012 Copa del Rey.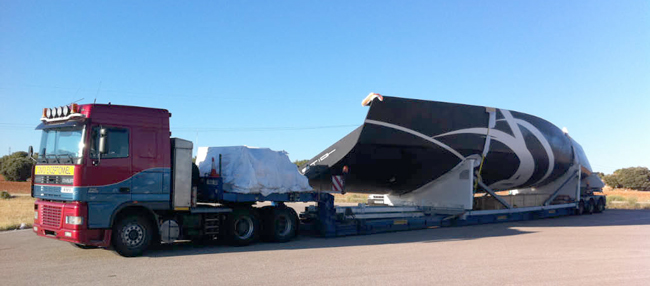 CLICK for pictures of the Bugler Transport long haul that saved twenty thousand pounds for the ambitious Finnish-Italian research project.
ALBION CLIMBS A MOUNTAIN AT 106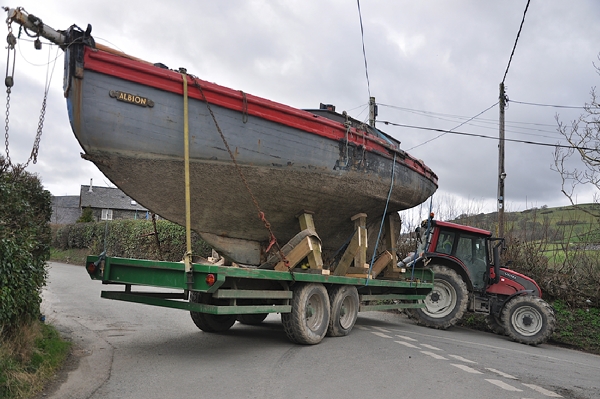 Bryn Saith Marchog GB, March 10, 2012: The 106 year old Liverpool nobby ALBION is hauled into the Welsh mountains for restoration, above and beyond the remote hamlet of Derwen in Denbighshire. On the last leg of an amazing journey from the beach at Conwy to the end of a narrow track in the high country, Sealand Boat Deliveries transhipped the 12-tonne Irish Sea fast fishing boat to a farm trailer.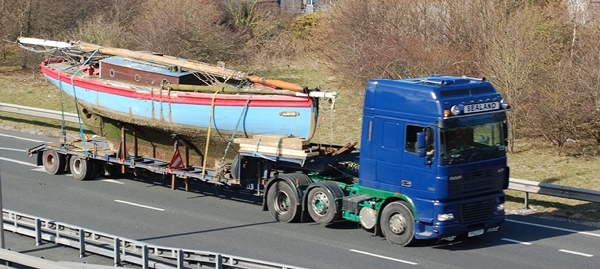 CLICK for full story and pictures of Dr Paul Smith's rescue of one of the most famous of the Morecambe Bay shrimpers.
ICED PUMA IN NORTH YORKSHIRE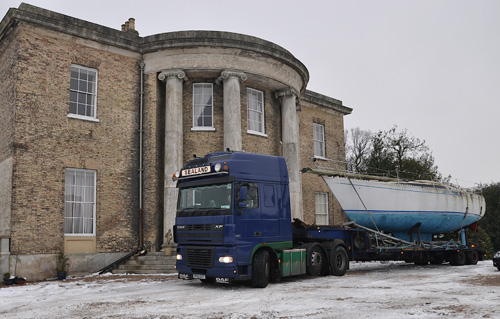 Gateforth GB, February 9: After 36 hours icebound in the grounds of a stately home, Sealand Boat Deliveries driver Mark Chapman decided to film his own escape attempt.
On the iced gravel of a steep and treacherous private road he soon passed the point of no return. The load was a 3.8m wide Spanish-built Puma 37 sloop destined for a mid-winter delivery across the high moors of Northern England to Whitehaven on the Irish Sea.





VOLVO 70s OUT OF THE STEALTH ZONE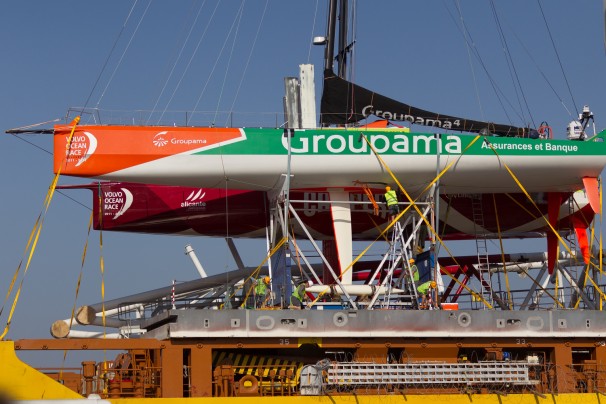 CLICK for Volvo Ocean Race anti-piracy operation report.



Off Sharjah, January 3: DHL delivered five of the world's fastest monohull sailing yachts after an unprecedented secret operation to evade Somali pirates in the Indian Ocean.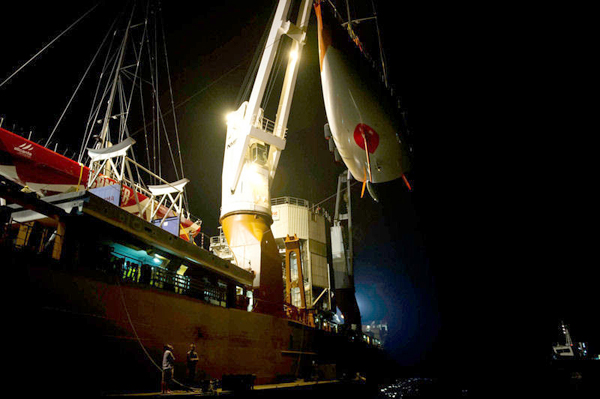 Loaded by night, a heavy lift ship transported the five Open 70s currently competing in the 39,000 mile Volvo Ocean Race from one "unspecified safe haven", in mid-ocean beyond the piracy zone, to another confidential unloading location in the Persian Gulf, beyond the Straits of Hormuz where Iranian gunboats test-fired a surface to air missile in a confrontation exercise. CLICK Volvo race picture for report.
FOOTSIE FROM GUERNSEY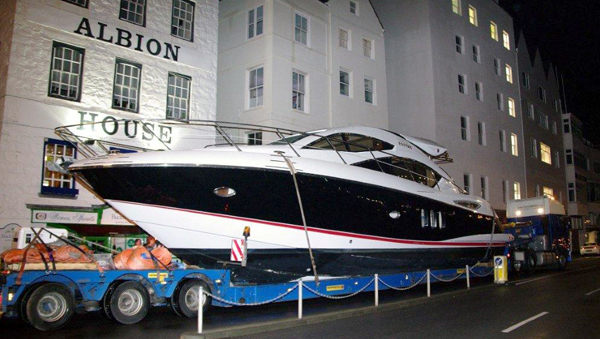 St Peter Port, November 3, 2011: FOOTSIE, a damaged 17.6m Sunseeker Predator 52 is the largest yacht ever shipped by road vehicle from the island of Guernsey. Bugler Transport moved her by night through the streets of the port towards the Southampton ferry. TONY RIVE




Chris Bugler at White Rock in St Peter Port, ready to roll FOOTSIE aboard the ro-ro ferry Commodore Goodwill for repairs in England. TONY RIVE
RESCUING USTINOV'S NITCHEVO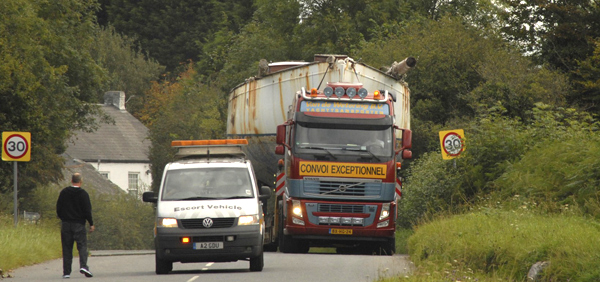 CLICK picture for story of MY NITCHEVO.


Plymouth, September 2011: Sir Peter Ustinov's beloved 58ft yacht MY NITCHEVO nears the Underhill Engineering workshops in an eleventh hour rescue from the Côte d'Azur. PHIL RUSSELL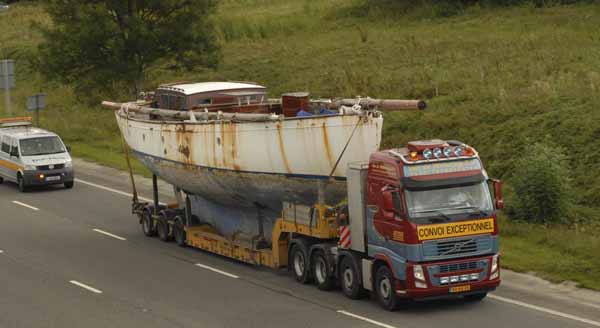 The ketch with a glamorous history, built for ocean racing by de Vries Lentsch in 1929, had been rusting away at at Port Napoléon in the Rhône delta after the death in 2004 of the celebrated film actor, theatre director, writer and raconteur. PHIL RUSSELL

CLASSIC MOVE: CONNECTICUT TO CORNWALL IN 21 DAYS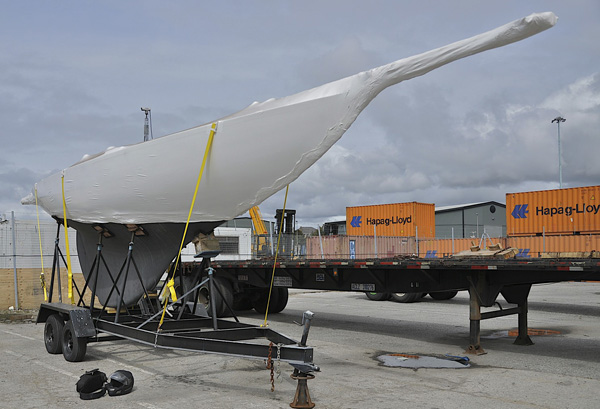 Liverpool, August 29: A very special parcel clears customs at the ACL Royal Seaforth ocean terminal just three weeks after yacht owners in Mystic CT struck a deal with a yachtsman in Falmouth to bring the Internation One Design sloop Greyhound back to Europe, 74 years after she left the Fredrikstad yard of her Norwegian designer Bjarne Aas. MARK CHAPMAN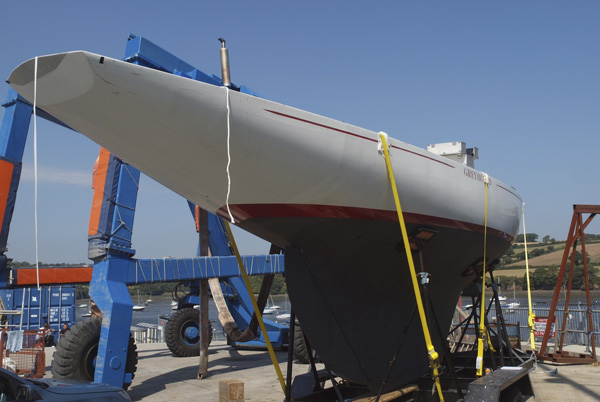 CLICK picture for full story of "the classiest OD of all".


CHINESE FLYER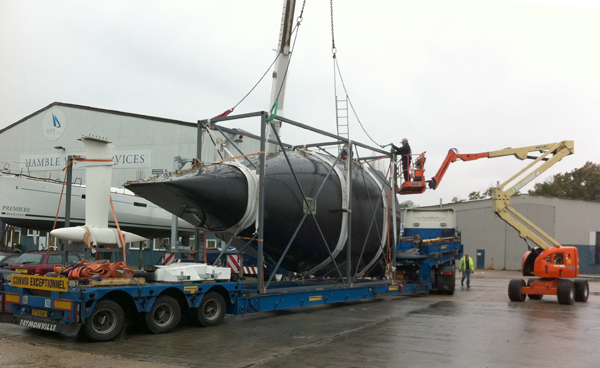 Hamble, November 2011: A sister ship for KERONIMO, Jason Ker's 2011 Class 1A winner in the 2011 Rolex Fastnet race, arrives from China for fitting out near Southampton. Builders McConaghy Boats at Zhuhai in the Pearl River Delta packed the Ker 40 One Design hull by slinging her from webbing straps inside an innovative deep sea shipping frame.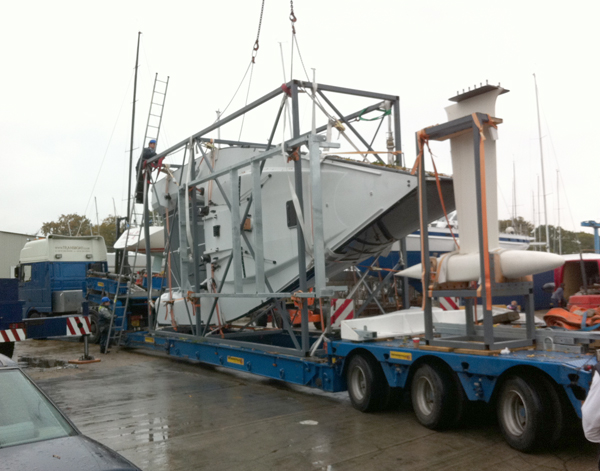 Light and fast, 12.2m x 4.15m and only 4600kg displacement, the Ker 40 was designed for the Australian firm McConaghy as the next step for winning mixed fleet races under IRC and ORC rating rules and voted Best Boat Under 45ft at the 16th China International Boat Show in Shanghai. Bugler Transport moved her from Southampton Docks in the novel cradle, to be re-united with her keel at Hamble Yacht Services.



YACHT CARRIER FREE AFTER 5M DOLLAR RANSOM - THREE DEATHS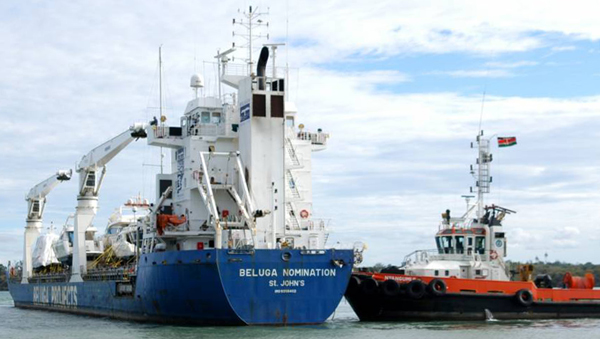 Mombasa, Kenya, April 18: After 12 weeks ransom negotiation, pirates released the German-owned ship heavy lift ship Beluga Nomination. She arrived in Kenya under tow, still loaded with her full deck cargo of yachts but carrying two bodies in her cold store. Her Polish captain and six of her crewmen were captured alive after defending the ship for 72 hours in their armoured citadel. The pirates broke through with cutting torches. Filipino sailor Farolito Vallega was executed in revenge after the death of a pirate in a failed counter-attack. Two crewmen escaped by lifeboat and a third drowned at sea. German police boarded the ship to examine two bodies. The Bremen-based shipowners applied for insolvency protection in March after their American private equity shareholders filed criminal charges against the founder of the 72-vessel fleet, Niels Stolberg, who denies any wrongdoing. Nine of the yachts are fast motor boats in transit to the Seychelles. Five were shipped by the world's leading yacht transport firm Peters & May. REUTERS / Joseph Okanga.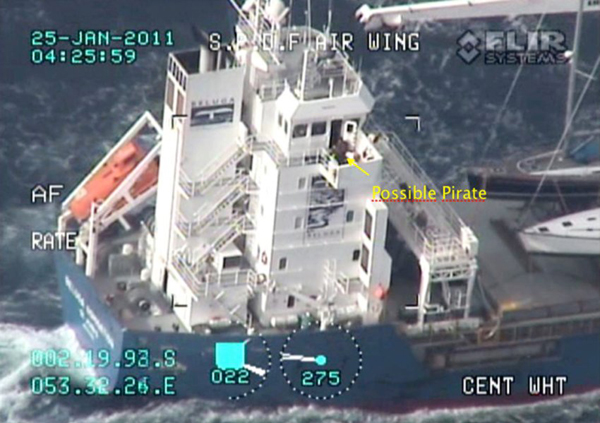 Copenhagen, March 5: Per Gullestrup, head of the Danish shipowning firm Clipper, said it was 'totally insane' of Danish yachtsman Jan Quist and his partner Birgit Marie Johansen to sail their 43ft yacht 'right into the pirates' arms' after blogging on a yachting website about their 'anti-piracy' plans when homeward bound across the Indian Ocean. Somali pirates have since seized the yacht ING and kidnapped Quist, Birgit Marie, their three teenage children and two other Danish citizens. All are now held 'for their own safety' with other kidnapped sailors on a pirate mother ship off the coast of Puntland in Northern Somalia.


CLICK for Yachting Monthly story.

EXTREME YACHT TRANSPORT IN SOUTH ATLANTIC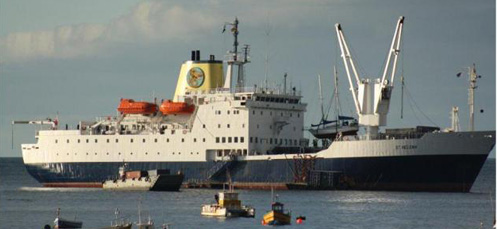 St Helena, December 18, 2010: Every two years the False Bay Yacht Club organises a 1700 mile yacht race, downwind from Simonstown in South Africa to St Helena, the most remote island on earth. The Governor's Cup goes to the winner of a two week handicap race for yachts over 30 feet. Race supporters travel out to the island aboard the Royal Mail Ship St Helena. After a huge reunion on the island, the yachts are loaded aboard RMS St Helena and all concerned travel back to Cape Town, usually upwind, with families and friends celebrating Christmas Day aboard the 7,000 ton mail ship. Billy Leisegang's Simonis 35 monohull sloop Our Dianne won the 2010 trophy. Andrew Weir Yacht Management organised the yacht transport.



CLICK the LYNNE WARNER picture for story.

WILLIAM FIFE SCHOONER RESCUE





Douarnenez, France, November 24: Driver Ruud Vasterburg hauls ELISE OF LONDON out of Tréboul, just 9 months after a disastrous sinking in the Pouldavid River and 98 years after William Fife III laid her keel in Scotland.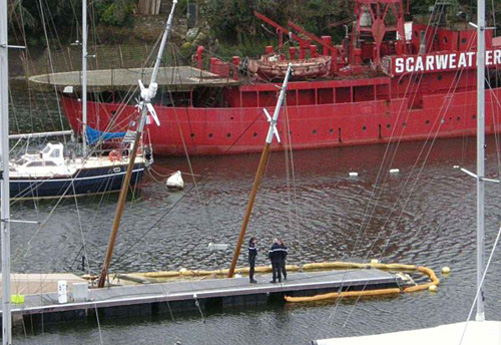 Crisis in Port Rhu
CLICK picture for full story.



GOODWIN SANDS CLOSE CALL




October 2010: RNLI Dover snatched the 1903, 35 tonne, Belgian motor tjalk GOL 040310 minutes from disaster after her engine shut down off the Goodwin Sands. Her three crew were saved. Sealand Boat Deliveries and Rice Continental hauled her from Dover to the River Severn after her escape.



CLICK for more pictures.

BOAT TRANSPORT? What's Wrong With Shiply?
CLICK for user feedback.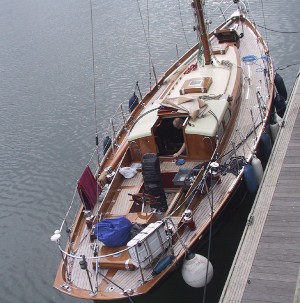 Transportation Directory
Griff Rhys Jones's celebrated Rhodes 45 sloop UNDINA alongside at Cherbourg, bound for Les Voiles de St Tropez.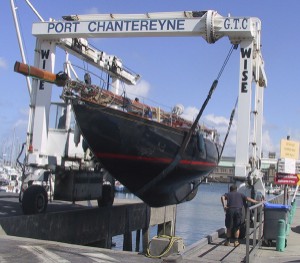 Lifting UNDINA to a Transboat super-low trailer for a BTX move from Cherbourg to St Tropez in 2007.




CLICK this picture of UNDINA for boat transport news from 2009.

NAVIGARE NECESSE EST, VIVERE NON EST NECESSE
To sail is necessary, to survive is not necessary.

Attributed by Plutarch to Gnaeus Pompeius who sent sailors to sea in bad weather to bring grain from Africa to Rome.



Ici on trouve la metéo, des vendeurs de bateaux, les spécialistes du transport bateau et la cyberbourse électronique des transporteurs.



Ein Amerikaner aus Kalifornien war 1997 unser erster Kunde. Er liess seine Yacht in Amerika von Küste zu Küste transportieren. Seit diesem ungewöhnlichen Boottransport, hat unsere Transportbörse hunderte von Yachtbesitizern mit anderen Bootstransporteuren in Verbindung gebracht. Stellen auch sie ihr Transportproblem auf dem BTX board dar. Die Bootstranporteure geben kostenlos Ratschläge und bieten ihnen Preise an.