BTX takes you to weather reports, boat transporters and current sea conditions anywhere in the world. Since 1997 we have put thousands of yacht owners in touch with boat transporters. Post details of your job on the BTX questionnaire. Boat transporters will reply with free advice and price quotations. BTX is free, based in Britain and used by mariners everywhere.


Yacht Transport News 2013
NEW YEAR MERSEY ARRIVAL FOR J/111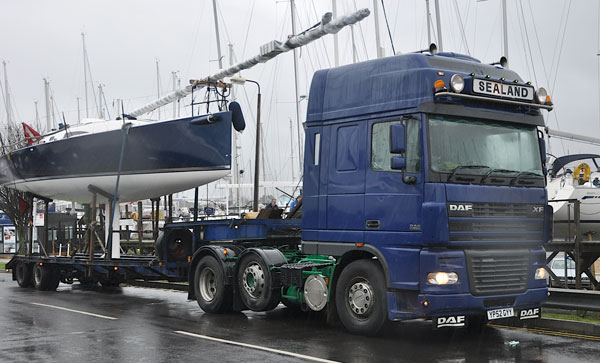 Liverpool GB, January 2: The first J/111 offshore racer-cruiser to reach the Mersey is Captain Guy Cowper's JEZEBEL. She arrived at the Bluepoint boatyard in the new year.

In the eighteen months since the first of these strict one-design 36-footers began racing off Rhode Island in 2010, sixty J/111s have been built in France and the USA for yachtsmen in ten countries. Ten raced together under five national flags in the first European J/111 one-design regatta at La Trinité-sur-Mer in Brittany in the summer of 2012. In a famous last-minute performance in 2011, a new French-built J/111 called SHMOKING JOE arrived by lorry in Hamble only 12 hours before the start of the 2011 Round Island Race. Phil Thomas and Duncan McDonald immediately raced her to win the IRC1 and IRC 1A divisions and finish sixth among the 400 competing IRC boats in the big 50-mile race.

Sealand Boat Deliveries delivered JEZEBEL complete with a 16.67m mast constructed by Hall Spars in a new carbon nano-tube material called Arovex. To lower her centre of gravity and keep her draught under 2.2m, the Johnstone brothers of J-Boats designed a hollow fabricated stainless steel fin with a flat-sided lead bulb. J/111s can accelerate to windward at over 7 knots and plane downwind. SHMOKING JOE recorded 18 knots planing in the Round Island Race.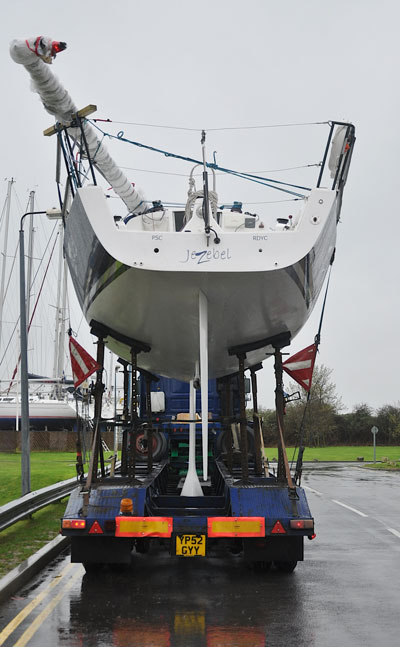 The J/111 is known for her narrow waterline beam and her open transom.

ESCAPE TO BARTON UPON HUMBER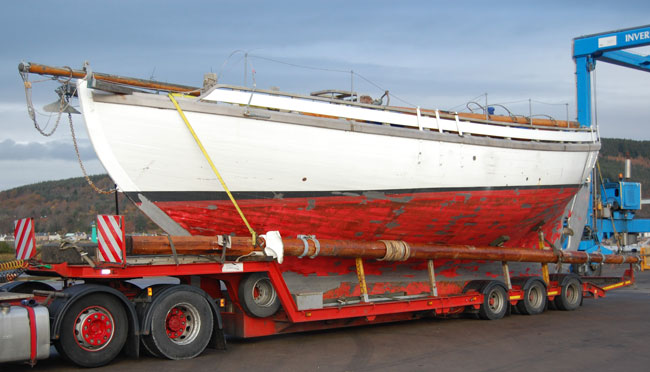 Inverness GB, November 20, 2012: The 32-ton Colin Archer gaff ketch ESCAPE, massively built of Norwegian larch on Norwegian grown oak frames for Arctic exploration, is on the move again.
Sealand Boat Deliveries first moved her in 2008 after a tricky River Hamble tow with salvage pumps running as far as the big boat hoist at Swanwick. They road-hauled her to Lowestoft for a major refit at the International Boatbuilding Training College. Her new owner sailed her to Norway in 2008 for a triumphant return to Risør where she had been built in 1936 at the Moen yard of K. Christiansen & Co to plans from the British naval architect William McMeek. The pioneering Arctic yachtsman David Robertson asked McMeek to base the design on an earlier 23-ton double-ended sailing lifeboat, also named Escape, designed in 1896 by the great Colin Archer [1832–1921]. In the Colin Archer tradition Robertson ordered scantlings 25 per cent over Lloyds Rules.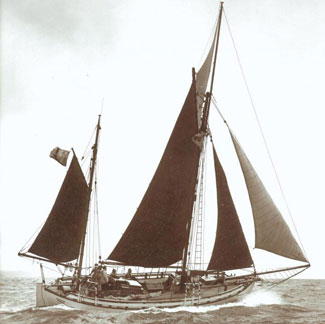 Sealand's 4.34m wide load movement in 2012 required delivery of the hull and spars from Inverness to the Draughtsman yard close by the big bridge at Barton upon Humber in Lincolnshire. Her winter overhaul is in the hands of shipwright Joe Irving.

The Arctic veteran has recently been offered for sale by the specialist yacht brokers Wooden Ships. Joe Irving recently restored Ierne, the International 8-metre gold medal winner for Norway at the 1920 Antwerp Olympics. Huw Jones of the Royal Yorkshire Yacht Club had discovered the gold medal winner locked in a fruit warehouse in Portugal.

FINLAND TO VALENCIA ON HER BEAM ENDS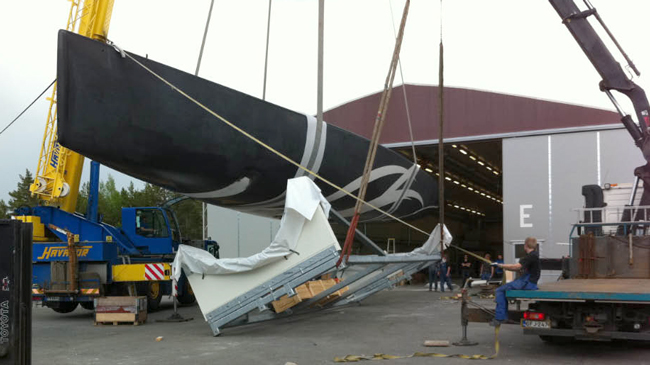 Bosund SF, June 2012: Baltic Yachts tilted the pioneering Baltic 72 Grand Prix hull on her side to reduce her beam from 6.0m to 5.0m for road delivery to Valencia for Alessandro Rombelli, the 2011 winner of the Melges 20 Gold Cup Championship and challenger for the 2012 Copa del Rey.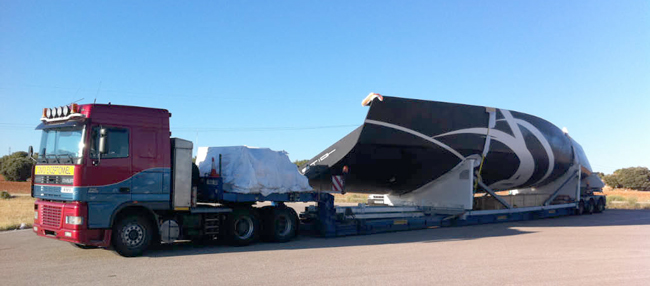 CLICK for pictures of the Bugler Transport long haul that saved twenty thousand pounds for the ambitious Finnish-Italian research project.
ALBION CLIMBS A MOUNTAIN AT 106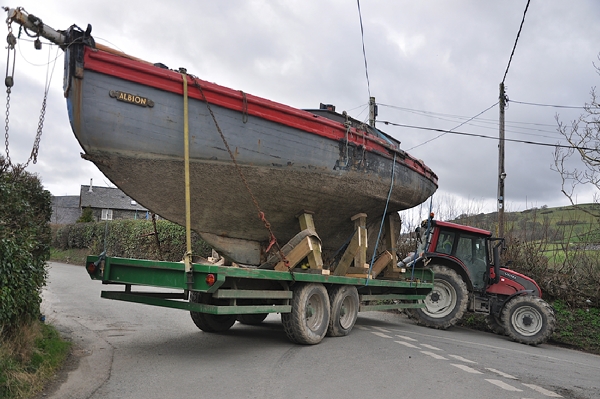 Bryn Saith Marchog GB, March 10, 2012: The 106 year old Liverpool nobby ALBION is hauled into the Welsh mountains for restoration, above and beyond the remote hamlet of Derwen in Denbighshire. On the last leg of an amazing journey from the beach at Conwy to the end of a narrow track in the high country, Sealand Boat Deliveries transhipped the 12-tonne Irish Sea fast fishing boat to a farm trailer.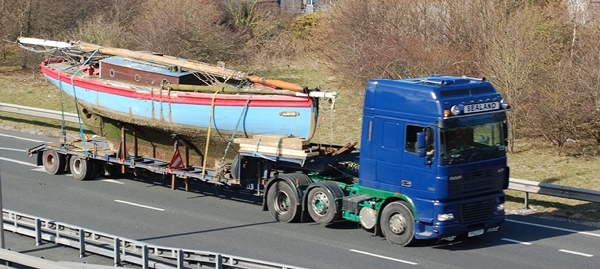 CLICK for full story and pictures of Dr Paul Smith's rescue of one of the most famous of the Morecambe Bay shrimpers.
BOAT TRANSPORT? What's Wrong With Shiply?
CLICK for user feedback.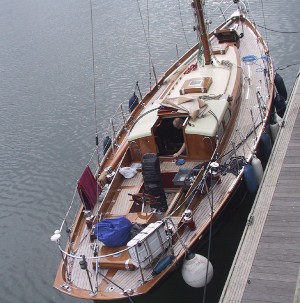 Transportation Directory
Griff Rhys Jones's celebrated Rhodes 45 sloop UNDINA alongside at Cherbourg, bound for Les Voiles de St Tropez.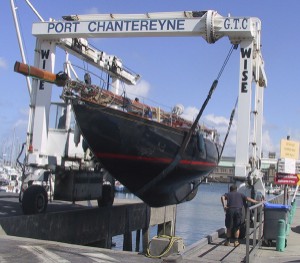 Lifting UNDINA to a Transboat super-low trailer for a BTX move from Cherbourg to St Tropez in 2007.




CLICK this picture of UNDINA for boat transport news from 2012.

NAVIGARE NECESSE EST, VIVERE NON EST NECESSE
To sail is necessary, to survive is not necessary.

Attributed by Plutarch to Gnaeus Pompeius who sent sailors to sea in bad weather to bring grain from Africa to Rome.



Ici on trouve la metéo, des vendeurs de bateaux, les spécialistes du transport bateau et la cyberbourse électronique des transporteurs.



Ein Amerikaner aus Kalifornien war 1997 unser erster Kunde. Er liess seine Yacht in Amerika von Küste zu Küste transportieren. Seit diesem ungewöhnlichen Boottransport, hat unsere Transportbörse hunderte von Yachtbesitizern mit anderen Bootstransporteuren in Verbindung gebracht. Stellen auch sie ihr Transportproblem auf dem BTX board dar. Die Bootstranporteure geben kostenlos Ratschläge und bieten ihnen Preise an.