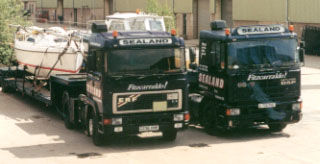 Sealand Boat Deliveries
offer experience, flexibility, reliability, enthusiasm, neutrality
When It Comes to Experience...
We hold a vast data bank of information.
We have the hull shape, weight and dimensions of thousands of yachts, old and new, on our files. We have contacts in hundreds of marinas and ports.
Our abnormal load route planning system covers hundreds of possibilties.
We have 38 years experience of transporting very high and very wide loads, but we are experienced in handling small craft and aware that the movement of the smallest yachts can be tricky and fiendishly complicated.
We have no weight limit.
No boat is too small for us.
Our advice comes free of charge. Contact us at the planning stage.
We know the territory.
click on forms to give us the vital details of your project







Sealand Boat Deliveries Limited

Gollinrod, Walmersley
Bury,
Lancashire.
BL9 45NB

Ops Office Telephone: 01254 705225 International +44 1254 705225
International fax : +44 1254 776582



e-mail address: ros@mcr1.poptel.org.uk



1078992 England VAT Reg: GB 147 2903 64

Use the btx questionnaire to give us the vital details on http://www.btx.co.uk/btxforms.htm



NAVIGARE NECESSE EST, VIVERE NON EST NECESSE
To sail is necessary, to survive is not necessary.

Attributed by Plutarch to Gnaeus Pompeius who sent sailors to sea in bad weather to bring grain from Africa to Rome.