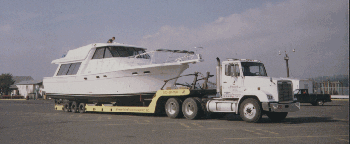 13930 NE190th St, Woodinville, WA 98072 (800) 247-1198
Fax: (206) 485-4480
---
Since the 1920s, Associated Boat Transport has been transporting boats using state of the art equipment throughout the Northwest and then, beginning in 1984, the US, Canada and Mexico.
We transport boats to 70 feet in length, sail or Power, weighing 65,000 pounds.
Air-ride and Air-ride Hydraulic trailers designed specifically for boats ensure a smooth comfortable ride.
Exhaust stacks on our trucks exit under the frame to keep your boat clean
$150,000 insurance for each boat carried.
Trained drivers averaging over 8 years experience.
Firm price quotes include all permits and required escorts, no "extras."
In the Northwest we can water load and unload, or load and unload on dry land without cranes.
We carry a complete line of Brownell boat stands.
We meet our schedules.
For a quote please provide the following information: Starting point and destination, length, width, height, make model and weight of your boat.
Call us at 1-800-247-1198 or Fax us at 1-206-485-4480.
---